Ann Coulter Talks to Mediaite About Issuing a 'Fatwa' for Conservatives, and Why She Mostly Watches MSNBC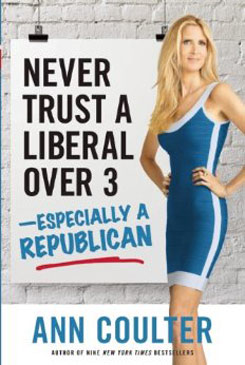 Ann Coulter is back with her latest book, Never Trust a Liberal Over Three — Especially a Republican , and this time she's taking aim not just at the usual suspects on the left, but also the Republican Party and the forces within that have consistently lost many recent elections. Unlike previous Coulter works, the book concedes that Democrats do something better than their GOP counterpart: They know how to win elections, she writes. In a recent interview, Coulter talked to Mediaite about the book, her outlook for the GOP, and why she actually watches MSNBC more than any other cable news outlet. Read below, in two pages:
This book seems to take a more defeatist tone than your others. At one point, you write: "Even when we win, we can't win." Have you given up?
I speak for a lot of Americans when I say that. After Nov. 6, 2012, I was out. I was done with politics. I was actually considering starting to write columns on Gossip Girls, Revenge, the cultural stuff I enjoy. But then I got reinvigorated by the gun debate. And so I tried to lure people back into conservative politics by writing a fun book.
Your basic case seems to be that Republicans need to learn how to win elections…
I'm like the conservative ayatollah. Okay, I'm issuing a fatwa: We have to win elections! After Mitt Romney's loss, it was a natural human tendency to lurch towards a silver-bullet solution. Some people blamed the tea party, others blamed the "establishment." In some cases, sure, but the main thing is that with the right, it's about self-expression. For example: In 2008, I supported Rep. Duncan Hunter during the GOP primaries. It was stupid of me to support him, even though he's good on every single issue. Why? Because my next door neighbor is good on every issue. But we need someone who can win. We need to see how sneaky, manipulative, and single-minded Dems are about winning elections.
You write a lot about how the Democrats are "better" at winning elections…
When it comes to electoral politics, the Democrats operate on brains. They win elections by looking at electorate and modeling their races; Republicans win on national waves. The GOP does nothing and just happens to get elected when Americans are frustrated.
I'm proud of Republicans for being the party of ideas. But when it comes to elections, we lose that. For instance, right now conservatives are tearing down [Senate Minority Leader] Mitch McConnell. But what did he do?! By attempting to primary him, they're just mirroring their concern about getting back "respectable" Republicans. I don't even know who the establishment candidate that Mitch was pushing that pissed everyone off. Did he run any differently than Rand Paul? No. Mitch didn't support the amnesty plan. Rand was supporting that for a month. It's this image thing that "We are the purists, we're against the establishment." But that's how liberals are.
And think about this: In the last GOP primary, Romney was the only candidate — other than Michele Bachmann — who absolutely opposed amnesty. So whose side were the ones calling him a RINO on then? Huh? The average American hates amnesty; and who sold them out? Not Romney, but Marco Rubio.
We have to get away from shibboleths and focus on races.
In the book, you blame a lot of the electoral loses on GOP candidates "appealing to rubes and hotheads." Are you calling upon GOP candidates to tamper down the rhetoric?
Oh, certainly for the presidential election. That was a big problem last year. The Republicans have had too many people running to get TV shows. You do not see that in the Democratic Party.
Ted Cruz is a beautiful example of what the candidates need to be like, sort of like Ronald Reagan. They are not necessarily moderate in their positions, but they're moderate in their demeanor. Push the policy and ditch the shocking lines.
People might find that an odd suggestion, coming from a firebrand pundit…
I'm not running for office. It's useful for those of us who talk on TV to push the rhetoric. But we're not running for office.
You're obviously critical of Democrats in the book but, more than ever before, you take swipes at Republicans it seems…
I write that we were hurt by running candidates like Christine O'Donnell. She was no Todd Akin, but the problem was that we ran her in Delaware. She threw her hat in the ring to get attention and then become a bigwig and the GOP championed her cause in a state that hasn't gone for a Republican in however many years. She would have been a great candidate in 38 other states, but the GOP failed to move the passion aside and concentrate on winning.
So you're saying the GOP needs to accept some "moderate" candidates?
Depending on the state, absolutely. We have to put up a Scott Brown and Mitt Romney to get the big states. That's the best we're going to get in the more liberal states. Take what you can get and run like a thief in the night.
Before we talk about the media, let's set the record straight: Who are you pulling for now in 2016?
Obviously I had my heart broken by Chris Christie. But right now, I'm liking Cruz and [Utah Senator] Mike Lee. There's nothing wild-eyed or cheap-shotty about either of them. But, oh, are they pushing the conservative agenda.
>> READ ON TO NEXT PAGE: Ann Coulter Explains Why She Watches MSNBC; And Who She Would Fire If She Were 'Queen of Cable News'
— —
>> Follow Andrew Kirell (@AndrewKirell) on Twitter
Have a tip we should know? tips@mediaite.com