Ann Coulter Thinks Tony Hayward Deserves A Vacation More Than President Obama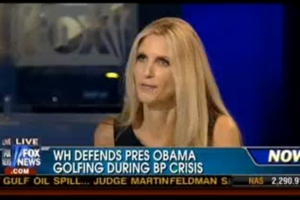 If you were going to put money on someone taking a shot at defending BP CEO Tony Hayward, Ann Coulter would be a strong bet. Not that she thinks too highly of him at all, but at least his yachting excursion over the weekend was the first since the BP oil disaster began, unlike President Obama, she argues, who is on his seventh golf game since the Deepwater Horizon explosion.
Coulter was on America Live with host Megyn Kelly today to discuss the White House's strongly-worded criticism of Hayward for racing his yacht, "Bob", at the JP Morgan Asset Round the Island Race. The President received less flack for going golfing on the same day which, to Coulter, was hypocritical. "You go on vacation for a job well done," she argued, not in the middle of the crisis, and noted that "it reminds me that President Bush gave up golfing after the Iraq war."
Kelly added that the criticism on the President was "an image problem, in addition to an actual problem," rattling off fundraisers, vacation days, sport-related ceremonies, and concerts that the President has attended in the past few months, to which Coulter responded that she could "make a stronger case for Tony Hayward taking a vacation than Obama," though he got his bashing, too.
But Coulter didn't have bad things to say about everyone! Mocking the President's golf skills, Coulter quipped, "how about making Tiger Woods president? Or Lady Gaga— no, wait, she works too hard."
Video below:

Have a tip we should know? tips@mediaite.com