Ann Coulter: Gingrich's 'Outrageous' Threat To Subpoena Justices Threatens Checks & Balances
Ann Coulter On Gingrich's 'Outrageous' Threat To Subpoena Justices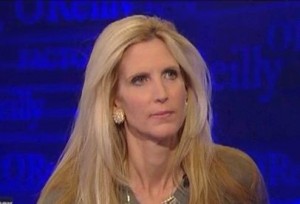 On The O'Reilly Factor tonight, Ann Coulter did not mince words when dissecting Newt Gingrich's views on executive power and directly challenging the authority of Supreme Court justices by potentially having them subpoenaed under a Gingrich presidency. She argued that the frontrunner candidate has a history of making over-the-top, bombastic statements that only ever end up hurting the conservative cause.
Gingrich's frontrunner status in the Republican field hasn't been without its share of controversies, and the latest is Gingrich's proposal to assert more oversight over the Supreme Court if he is elected to the presidency. During last night's GOP debate, Megyn Kelly questioned Gingrich about his position, citing several political analysts who do not like the precedent it sets for the system of checks and balances.in American government.
RELATED: Ann Coulter: GOP Picking 'The Most Right Wing Candidate' In Primary Is 'Suicidal'
O'Reilly admitted that "the system's not perfect" and there are certainly judges that he believes exercise judicial activism more often that others, but acknowledged the precedent would be a dangerous one. He asked his audience to think about whether they'd be okay with, say, Barack Obama wielding that kind of executive power. Gingrich tried to justify his position by citing Abraham Lincoln's vocal opposition to the Dred Scott decision, but O'Reilly (who, you'll recall, wrote a book about Lincoln this year) responded by saying Lincoln's opposition to certain Supreme Court decisions was only rhetorical.
O'Reilly then brought Coulter on for her reaction to Gingrich's bombast, and she minced no words in explaining what was wrong with Gingrich's words. Coulter explained that the notion of subpoenaing Supreme Court justices was a ridiculous one, and if anyone is going to bring them in for impeachment proceedings, it would be Congress and not the president.
Another possibility for the president, as O'Reilly saw it, was to issue executive orders like Lincoln did with the Emancipation Proclamation and then wait to see if it gets challenged by the courts. But Coulter was incredibly critical of Gingrich's words even to the point where she suggested they made conservatives look ridiculous.
"I, at least, know that this is an outrageous thing he is suggesting. You have to lay the groundwork for it, you don't just make these bombastic statements and open up conservatives to ridicule."
RELATED: Ann Coulter Calls GOP Leaders' Midterm Predictions 'Delusional,' 'Completely Insane'
O'Reilly went so far as to label Gingrich's position as "frightening," and suspected that unlike the warm reception he got at the debate when he made his controversial statement, voters in more moderate districts and states would be "scared" of Gingrich. And for voters who are already scared of President Obama getting a second term, running a "scarier guy" might not be the best strategy.
Watch the video below, courtesy of Fox News:
Have a tip we should know? tips@mediaite.com
Josh Feldman - Senior Editor