Ann Coulter To Hannity: Americans Afraid To Vote Against Obama Because 'They'll Be Accused Of Racism'
Coulter: Americans Afraid To Vote Against Obama Because 'They'll Be Accused Of Racism'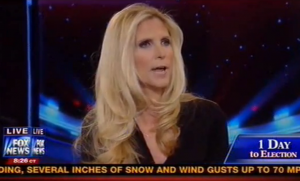 Ann Coulter paid a visit to Sean Hannity on Monday night to talk about the only thing we're all talking about today: the election and its results. Taking a look at the polls, Coulter didn't take them too seriously noting that they "over-predict" victory for a black candidate.
Hannity and Coulter noted that the Obama campaign "is already making excuses" — with Coulter going on to note that Obama, aside from "wrecking the economy with the stimulus, wrecking the country with Obamacare," has done nothing but campaign.
Coulter further dismissed the notion that Republicans have to move to the center when they enter general election campaigning. It's not a position change, she said. Arguing that Democrats' efforts to "demonize" Romney have failed, she added, "The more people see of Mitt Romney, the more they like him."
After a discussion of which states, and specifically which battleground states, Romney could win tomorrow, Coulter noted that the polls essentially show the key states to be a tie — and then brought up the race factor.
"You got the Bradley effect, when you have a white man running against a black man," Coulter started, with Hannity interjecting to ask, "You really believe that?"
"More now than ever before," Coulter replied. "Americans are afraid to say they are voting against Obama because they'll be accused of racism. That is the point by the entire NFM [Non-Fox Media]."
"The polls over-predict a victory for a black candidate," she asserted.
Watch below, via Fox News:

Have a tip we should know? tips@mediaite.com