Ann Coulter To O'Reilly: MSNBC, Liberals Are To Blame For Birther Media Madness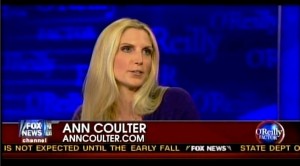 Ann Coulter made an appearance on The O'Reilly Factor this evening to lend her voice to the discussion of today's big media story: "The birth certificate thing." Host Bill O'Reilly asked Coulter whether she could put the issue in "any kind of context that matters." Well, said Coulter, "we were right, they were wrong," meaning that the conservative establishment has long been denouncing the "birther" movement as a distraction and a non-issue. So, then, who's to blame for this movement blossoming under the watchful gaze of so many television sets? MSNBC, of course:
Well, it started with Hillary Clinton. It was her campaign who looked into it. And, by the way, if the Clintons couldn't run this down, Trump wasn't going to…

And then I think it was a lot of liberals who were pretending to be conservatives or, on MSNBC […]

But MSNBC, there's nothing secret about MSNBC. They cover it approximately 55 minutes of every hour. And, yeah, you didn't hear anything about it at all on Fox News, so they were the ones promoting it, because it made conservatives look crazy.
O'Reilly, visibly amused at Coulter considered him a part of the conservative establishment and at her assertion that liberals were secretly to blame, made the point that many people hate Barack Obama so intensely that they simply become blinded. Coulter did say that many uninformed, not necessarily political Americans could possibly think Obama "seems foreign" in the way all liberals do.
So. Did Donald Trump "win" by getting the White House to reveal the President's long-form birth certificate? No, answered Coulter, but he did set a precedent of "talking tough" where Obama is concerned. Does that mean, O'Reilly wondered, that she hopes Trump will run? Coulter looked at him as if he'd grown a second head. "Why don't I want Charlie Sheen to run?" she reponded. "Because I care about this country." She added that it's not like Trump is going to swoop in and fix the nation's deficit just because he "knows somebody."
Watch the segment, via Fox News:
Have a tip we should know? tips@mediaite.com