Ann Coulter To O'Reilly: Newt's Media Attacks Are 'Like Jesse Jackson Accusing People Of Racism'
Coulter: Newt's Media Attacks Are 'Like Jesse Jackson Accusing People Of Racism'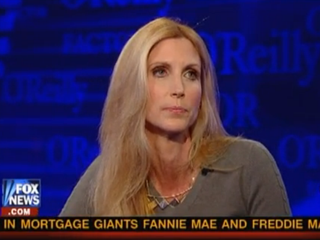 Ann Coulter is getting pretty tired of Newt Gingrich. Coulter appeared on The O'Reilly Factor tonight to discuss Gingrich's rise (and her candidate, Mitt Romney's, decline) and went straight for the strategy that has been most successful for the former Speaker: attacking the media. Calling it "abusing a real issue," Coulter provided a fiery defense to the reportersGingrich had attacked and likened his frivolous attacks on the liberal media to Jesse Jackson talking about racism.
RELATED: Wolf Blitzer Calls Out Piers Morgan For Saying John King 'Attacked' Gingrich
Bill O'Reilly began the segment by noting that, in the previous segment, they had debated the fact that Gingrich was running as "the avenger," with a cause to fight for. He asked Coulter what she would tell the Romney camp if she were an official strategist over there. She replied that the idea that debates mattered enough for Gingrich's performance in the primaries to be an issue was a problem, since there were not that many debates in the general election against President Obama and "based on past experience, Gingrich sucks up to whatever audience he has… he says whatever the audience wants him to say."
She also accused Gingrich of "depleting the well of sentiment against the liberal media." "It's like Jesse Jackson accusing people of racism while his mistresses come out," she noted, to attack someone like John King for a question at a debate. King, she continued was a "completely fair and honest reporter"
john king who is a completely fair and honest reporter (adding that his employment at CNN didn't change that), and to claim that the question about his ex-wife was out of order was "so picky and petty and if this were a Democrat we would be screaming bloody murder."
RELATED: Newt Gingrich Explodes At Fox & Friends: 'Isn't 'Fair And Balanced' Part Of Fox News?'
O'Reilly countered that the ABC News interview was "old news," which she countered by noting it had been the top headline at the Drudge Report that day, and using a different example: "vicious mainstream reporter Bret Baier," who also got yelled at during a debate. Media bias, she concluded, was a "serious issue, the way racism is a serious issue, and it's being washed away." O'Reilly once again countered that Gingrich was "ambushed," to which she replied, "was he ambushed by Fox & Friends on Saturday?" referring to his lashing out at the F&F crew over the weekend.
The segment via Fox News below:
Have a tip we should know? tips@mediaite.com