Ann Coulter Turns Her Back On WI Republicans For Losing Media War In Union Debate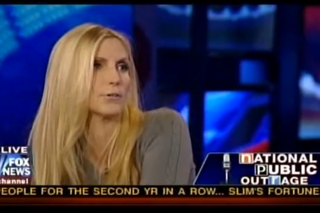 It's rare to find a segment where Sean Hannity is having a hard time getting a word in, but Ann Coulter made it tough for him tonight as she railed against, of all people, Wisconsin Governor Scott Walker for, among other things, failing to be on television "every night" and getting prank-called by a fake David Koch. While her general line of attack was "Chris Christie would have done it differently," Coulter cited polls showing Walker's popularity dropping significantly since the union wars.
"If he were Chris Christie, he would be on TV every night," Coulter argued about Gov. Walker, "the lieutenant governor would be here every night– I don't even know who the lieutenant governor is." Hannity tried to correct her by pointing out that the lieutenant governor had been a guest several times on Hannity, but he "wasn't here last night," so that wasn't good enough for her. "MSNBC last night for five hours," she began, clearly about to say they covered the union protests, but was cut off by a deadpan "yeah but who cares?" from Hannity, who tried to veer the conversation to friendlier waters, like the NPR scandal.
On this one, Coulter was not so surprised that an NPR executive would call Tea Partiers "scary" or racist– "that's just a typical day at the White House"– but was concerned about the fact that the conversation occurred despite the executive in question believing he was talking to a member of the Muslim Brotherhood. "I think we need the FBI to investigate NPR and their agreement to take $5 million from the Muslim Brotherhood." But Coulter was not particularly amused by this topic and found a way to swing it back to Wisconsin: "I bet you James O'Keefe would not have accepted a fake phone call from David Koch!" At this point Hannity accused her of "making mountains out of molehills" and having an "obsession" with Chris Christie, who she declined to defend because "we are not having this discussion."
The debate via Fox News below:

Have a tip we should know? tips@mediaite.com