Ann Coulter & Van Jones Spar Over Constitutionality Of Health Care Insurance Mandate On This Week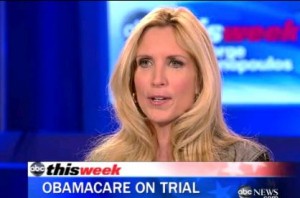 Earlier today on ABC's This Week, the panel took on the Supreme Court's hearings last week over the Affordable Care Act and specifically the individual mandate. Van Jones predicted the law would be upheld, suggesting it's part of the conservative tradition of personal responsibility, while Ann Coulter pinned the blame squarely on the government for creating such a messed-up health care system in the first place.
RELATED: Missed The Supreme Court Health Care Arguments? Here Are The Week's Best Punchlines
George Stephanopoulos noted that the critical questions of the justices "surprised a lot of people." George Will noted that the four conservative justices and swing vote Anthony Kennedy clearly took the objections raised by Obamacare's critics to heart. What both Kennedy and Will noted was that the individual mandate completely shakes up the relationship between the federal government and an individual. Will reminded the panel that when Nancy Pelosi was asked about the bill's unconstitutionality in October 2009, she didn't exactly take the idea seriously.
Jones suggested that tough questions are being asked because it's necessary for the case, and he doesn't believe the Supreme Court will strike the individual mandate down. He also hit upon the idea that the health care bill hits upon the idea of personal responsibility that conservatives tend to promote. ABC's Terry Moran noted one particular problem with this Supreme Court case that makes it unique from other cases: there's really no good example of how the law impacts any particular person because most of it "hasn't taken effect yet." Coulter joked that really, eight of the justices could have "taken the week off" and left the whole thing for Kennedy to decide.
But to rebut Jones, she said that Congress was to blame for the "freeloader problem." She did side with Mitt Romney on the issue of states having health insurance mandates, but the whole point of the Supreme Court case is to determine whether Congress has that power. New York Times writer Matt Bai noted that this kind of thing always happens with big social legislation, and eventually after the courts fight it out, it becomes just a big entitlement that no one wants to touch any more.
RELATED: Rachel Maddow: Supreme Court Vote May Show If It's So 'Conservatively Politicized' As To 'Hurt The President'
Moran suggested that recent decisions from this Supreme Court, including Bush v. Gore and Citizens United, paint it as a rather activist one.
Watch the video below, courtesy of ABC:
Have a tip we should know? tips@mediaite.com
Josh Feldman - Senior Editor