Ann Coulter Would Like To Clarify That She Is Actually Against Legal Immigration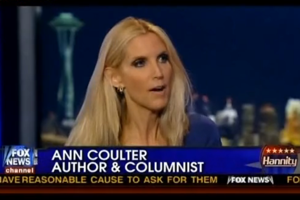 Poor Ann Coulter. America has left her starved for attention, like a stray cat under the rain. Perhaps in part due to her op-ed yesterday, an attempt at being offensive that descended into gibberish somewhere along the way, she felt the need to up the ante yet again on last night's Hannity, where instead of sticking to, as many would expect, attacking illegal immigrants, Coulter "leaped beyond" the illegal factor to attack immigrants that go through the proper avenues to get to America, like "80-year-old, wheel-chair bound AIDS victim" and/or "ex-felons."
Don't worry, she's against illegal immigration, too, but nevermind that, let's talk about the people that actually follow the rules to get into the country:
"This idea that a country is like a department store and anybody can just walk in… one thing I was thinking of, I mean, looking at some of the immigrants that have been approved. I'm leaping beyond illegal immigration and going straight into legal immigration now. For example, oh, the car bomber. Take him for an example. Is there any immigrant that a Democrat would say "No, no, we don't want you," other than a German engineer or, you know, an English scientist. No, you can't come here if you're a white European, but how about your 80-year-old, wheel-chair bound AIDS victim. Maybe an ex-felon."
Even Sean Hannity seems to think it's safer to just ignore this whole paragraph entirely and support adopting Mexico's immigration laws (which do not discriminate against 80-year-old wheelchair-bound AIDS victims) instead.
You win, Ann Coulter. Here is your attention. It really is a fascinating conversation. Video below:
Have a tip we should know? tips@mediaite.com