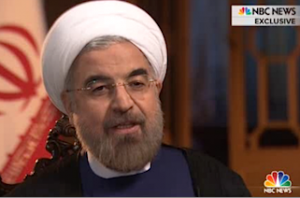 If you watched the portion of Ann Curry's interview with new Iranian President Hassan Rouhani that aired last night during NBC Nightly News, you may have come away with the image of a reformer who wants to work with President Obama and vows never to build nuclear weapons. But a slightly different picture emerged in remarks shown this morning on the Today Show.
Curry asked Rouhani point blank about comments his predecessor, Mahmoud Ahmadinejad, made in the past about the Holocaust being a "myth." She asked Rouhani, "Do you agree?"
The answer he gave may not exactly be comforting to Jewish people in America, Israel or anywhere else in the world.
"I'm not a historian," Rouhani began. "I'm a politician. What is important for us is that the countries of the region, and the people, grow closer to each other and that they are able to prevent aggression and injustice."
Curry did not press Rouhani for a firmer answer on that question, but rather went on to ask if he, like Ahmadinejad, wants to "wipe Israel off the map." Again his answer avoided specifics in favor of generalities.
"We do not seek war with any country," Rouhani responded. "We seek seek peace and friendship among the nations of the region."
He took a similar tack when Curry asked about Iranian access to websites like Twitter and Facebook. Rouhani did not say specifically whether his government would remove its censorship, but rather that "people must have full access to all information world wide."
Before signing off, Curry told Today's Savannah Guthrie that Rouhani's "non-answer" about the Holocaust "will likely raise a lot of eyebrows."
Watch video below, via NBC:
[photo via screengrab]
— —
>> Follow Matt Wilstein (@TheMattWilstein) on Twitter
Have a tip we should know? tips@mediaite.com