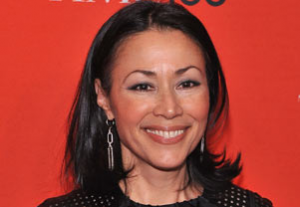 With Jeff Zucker taking the reins at CNN, there are endless questions about how he'll attempt to revive the cable news network. And while we may not have answers, we do have rumors aplenty. Today's edition: Ann Curry. The former Today co-host may get an anchor gig at CNN, the New York Post reports.
RELATED: New CNN Chief Eyes Moving Erin Burnett To Mornings For Ratings Boost, According To Report
Zucker "is interested in installing Curry in CNN's 8 p.m. time slot, we hear, which is currently occupied by Anderson Cooper," per the report. Supposedly, that could leave Cooper and his black T-shirts free to adopt a Christiane Amanpour-esque role.
Per the Post:
"Jeff wants a headliner like Rachel Maddow or Bill O'Reilly in prime time," a source says. "He cannot allow the low ratings at CNN to continue . . . so he can't hire a nobody. Curry fits that CNN-smarty-pants-foreign-affairs type."

The source adds that Curry's ouster as co-anchor over at NBC's "Today" would actually work to boost her appeal with audiences. "Package her experience as a news anchor for 14 years at NBC with the sympathy that's remained out there for her after the way the 'Today' show treated her," the source said.
Much of that may be true but there is one big problem with this story. The Post's source is likely wrong. While Curry would certainly be a feather in the cap of CNN, and could be a great news anchor and reporter for them, CNN will likely be looking for opinionated or big personality hosts in its primetime slots. As has been shown repeatedly in the past twenty years, a big name alone does not lead to viewers on cable news, and Curry, like most great journalists, lets the story, not her own views on it, remain front and center. But who knows.
A CNN rep commented: "There is no shortage of rumors about what Jeff will do. He doesn't start until late January, and any speculation at this point is just silly."
Earlier, the Post also reported that primetime anchor Erin Burnett could possibly move to mornings with a male co-host to make the network more competitive, ratings wise, with other morning shows.
And there's another tidbit to add to your speculation.
Have a tip we should know? [email protected]