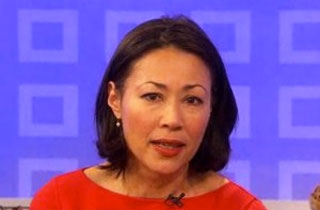 Page Six is reporting that Ann Curry and NBC have finally split ways after weeks of "protracted" negotiation over ending her contract.
The split comes two-and-a-half years after Curry's painful departure as the Today Show's anchor, in which she was bumped to the NBC News desk as a correspondent due to internal politics and ratings issues. NBC reportedly plans on announcing Curry's departure soon.
According to Page Six's sources, both she and NBC were "unhappy" with the arrangement: NBC because Ann was not filing enough reports to justify her $12 million a year contract, and Curry because she was "basically doing nothing."
Though the two have split, it may not mean burnt bridges: Curry reportedly plans on launching her own production company "to provide news reports and documentaries to numerous outlets, including NBC."
UPDATE — 3:00 p.m. ET: A senior NBC executive confirmed to Mediaite that Curry is leaving the network.
UPDATE — 4:045 p.m. ET: We received a full statement from NBC, part of which is below:
Today, NBC News and award-winning anchor and correspondent Ann Curry announced that she is leaving the network as a full-time employee to begin a new relationship with NBCUniversal that allows her the freedom to report on any platform and on any network, including NBC News, as well as any online or "over the top" channels. In addition, Curry is developing a media startup, to include a reporting and content venture seeded by NBCUniversal that will focus on incubating and producing content of national and global importance with a multi-platform distribution approach.

"This is about reaching for the edge of the future in journalism, which we know is undergoing an irrevocable transition. I am excited about working to become a valuable link between traditional media and what is to come," Curry said.
Curry continued, "In today's world of fragmented media, this is the time to seize the opportunity to improve the way we distribute and even tell stories. I want to expand my drive to give voice to the voiceless to emerging platforms and produce both scripted and non-scripted content, in addition to continuing to report on-air about stories that matter."

Curry has appeared as both an anchor and a correspondent on NBC News for nearly 25 years, with groundbreaking journalism on climate change, Darfur, U.S. relations with Iran, and American military veterans. But it is her reporting about the world's most vulnerable people that has most defined her work.

"I am sincerely grateful to NBC News for allowing me to offer viewers a vast and diverse body of work, including a depth of humanitarian reporting I understand still resonates. It has been a privilege to work with so many good and talented people at the network and I look forward to what we will do ahead. At the same time, I can't wait to expand my reach and work with people I admire in other places," Curry said.

"We're proud to support Ann in her new venture, and we look forward to more of her exceptional storytelling," said Pat Fili-Krushel, Chairman, NBCUniversal News Group. "She is committed to uncovering critical issues, humanizing them, and ultimately helping viewers understand and connect."
— —
[Page Six]
[Image via screenshot]
—
>> Follow Tina Nguyen (@Tina_Nguyen) on Twitter
Have a tip we should know? tips@mediaite.com