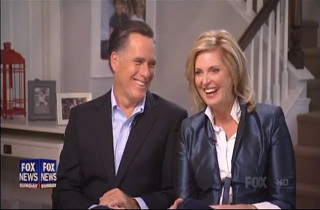 Ann Romney told Chris Wallace on Fox News Sunday that said she is "mostly over" her husband Mitt's loss in the 2012 presidential election and that the media was unfair to him during the campaign. Romney said that she is "Happy to blame the media" for his loss.
"'I'm mostly over it. But Not completely. You have moments where you go back and feel the sorrow of the loss, and, so, yeah, I think we are not mostly there yet," she said, referencing the Princess Bride.
Mitt Romney declined to second guess his campaign saying that he is only focused on the future.
"I am like a shelion when it comes to defending Mitt. I know his heart, I know his abilities. I know he would have been a fabulous president and I mourn the fact that he is not there. It would have been much better for America if he had been there right now," she said.
Ann Romney went on to charge that the press was against her husband from the get-go saying that the media was partially to blame for her husband's negative public image.
"He was not given a fair shake. People weren't allowed to see him for who he really was," she said.
After being asked by Wallace if she blames the media she said, "I am happy to blame the media."
"I think that any time you are running for office you always think that you are being portrayed unfairly, and, you know, we — of course, on our side believe there is more bias in favor of the other side. I think that, you know, that is a pretty universal," she said.
Watch below clip via Fox
Have a tip we should know? tips@mediaite.com