Ann Romney Likens Obama Team's Post-Debate Reaction To Petulant Child Losing Game In Sandbox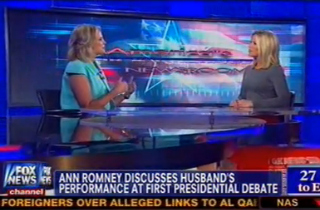 Appearing on America's Newsroom this morning, Ann Romney told host Martha MacCallum that the Obama campaign has acted in poor sportsmanship for labeling her husband a liar following his debate victory last week.
Asked what she thinks of the recent charges that Mitt Romney lied his way through the debate, the GOP candidate's wife responded: "Lied about what? This is something he's been saying all along. This is what he believes. This is his policy. This is his statement."
She then likened the Obama campaign's post-debate reaction to a sore loser on the playground: "It's sort of like someone in the sandbox that lost the game and they are going to kick sand in someone's face and say, 'You liar.' They lost and now they are just going to say, okay, we didn't like the game."
"To me, it's poor sportsmanship," she added.
Earlier in the interview, Romney described how she and her family felt during the first debate: "I turned to my son after 15 minutes and I gave him a nudge and i said, 'It's 100 to zero right now,'" she said.
"It never really changed," she continued, praising her husband's performance as terrific. "His answers were good and he was able to talk about his vision of the country and everything else and where he wants to take us, but for me it was the energy, the passion, the excitement. You could tell that this guy is ready, anxious, and prepared to take over."
Watch below, via Fox News:
— —
>>
Follow Andrew Kirell (@AndrewKirell) on Twitter
Have a tip we should know? tips@mediaite.com