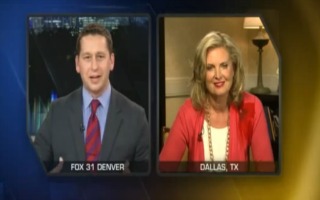 GOP presidential nominee Mitt Romney's wife, Ann Romney, appeared on a local Colorado news station where she addressed controversial comments made by the GOP nominee in which he said that he does not "have to worry" about the 47 percent of Americans who pay no income tax because they would likely support President Barack Obama. Ann Romney clarified that her husband was not expressing any 'disdain' for the poor or those on government assistance programs.

The Fox 31 Denver anchor noted that the Republican presidential nominee was having a rough news cycle around the 47 percent comments. "What do you want to say to Americans about those comments," he asked Ann Romney.
Romney replied that the context of what her husband was talking about was the rising rates of poverty and dependence in America.
"I know he cares, and that's why we're running," said Ann Romney. "It's unfortunate when something gets misinterpreted like this and taken out of context."
"He wasn't expressing any disdain for people who are poor or who are on entitlement programs," the anchor asked.
"Absolutely not," Ann Romney replied.
Asked about the gender gap contributing to a tight race, particularly in swing states like Colorado, Ann Romney replied that Romney does not need to be President. She said that Mitt Romney is running because he thinks he can help people, particularly women.
"This is a guy who doesn't need to do this for a job," She said. "He honestly believes he can help many Americans by getting in there and, having the experience that he's had and the ability to understand the economy, to bring more certainly to Americans, especially to women."
Ann Romney described some of the speakers at the GOP convention who talked about her husband's compassion over the years. The anchor asked if she would have preferred to see those speakers in prime time rather than Clint Eastwood. "I always enjoy the personal stories better," she replied.
Watch the interview via Fox 31 Denver:
h/t BuzzFeed
> >Follow Noah Rothman (@Noah_C_Rothman) on Twitter
Have a tip we should know? tips@mediaite.com