Ann Romney Reflects On RNC Speeches: I 'Wanted Women To Know We Hear Their Voices'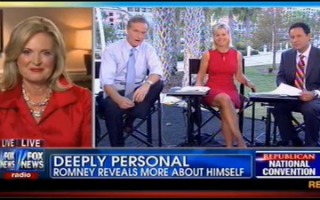 Ann Romney appeared on Fox & Friends Friday morning to talk about her husband Mitt Romney's speech from the night before — a speech that got her a little choked up the second time around as well.
Ms. Romney said that people close to her husband couldn't wait to share that he's "the kind of guy that visits in the hospital when you're child is dying of cancer. He's the kind of guy that takes the Thanksgiving dinner over to a family who has been up in the hospital for months at a time."
She also shared that she'd felt confident and ready to give her own speech earlier this week, and that she had particularly "wanted women to know that we hear their voices" when it comes to jobs and the economy's impact on their children.
The hosts also played Ann a clip of one of her sons joking that, as kids, they'd go to her for money since her husband was the "cheap" one. "For us, our life is not about making money," she shared later, noting that her husband didn't receive reimbursement for his role in the Salt Lake Olympics. She did acknowledge, of course, that her family has been "very blessed" when it comes to finances and that now is their time to "give back."
She said she knows it's going to be tough going until election but, but she's made it through even tougher experiences before.
Have a look at the interview, via Fox & Friends:
Have a tip we should know? tips@mediaite.com