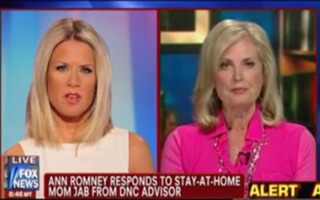 Former Massachusetts Gov. Mitt Romney's wife, Ann Romney, appeared on Fox News Channel with Martha MacCallum on Thursday to respond to Democratic strategist Hilary Rosen saying that she has "never worked a day in her life." There, Ann Romney had some sharp rebukes for Rosen and also said "I know what it's like to struggle."
RELATED: Hilary Rosen Defends Her Ann Romney Comment: 'I Love Stay At Home Moms' And 'This Is Not About Ann Romney'
"What was your personal gut reaction when you heard her say those words," asked MacCallum.
"She should have come to my house when those five boys were causing so much trouble," Romney joked.
MacCallum showed a Tweet from Josh Romney, Ann and Mitt's son, who said that his mother could have made a number of career choice but made the perhaps most difficult one which was to stay at home. MacCallum asked Romney, "why did you make the decision that you did at that point in your life?"
"My career choice was to be a mother," Romney responded. "Other women make other choices, to have a career and raise a family – which I think Hilary Rosen has actually done herself."
"We have to respect women in all those choices that they make," said Romney. She proceeded to praise both women and men who stay at home and raise children. She said that her husband, Mitt Romney, would often come home and say to her that "your job is more important than mine. My job is temporary – I know these things come and go – but your job is a forever job that's going to bring forever happiness."
Romney addressed Rosen directly when she said, "I've been on the campaign trail for one year, and guess what women are talking about – and I don't care if they're stay at home moms or they're working mothers or they're grandmothers. Guess what they're all talking about? They're talking about jobs and they're talking about the legacy of debt that we're leaving our children."
MacCallum then played a clip of Rosen on CNN from Thursday morning when she walked back her comments about Ann Romney. "This goes back to the sort of rich argument that has been leveled against you and your husband," said MacCallum. "Basically she's saying, 'well Ann Romney could have chosen to do anything that she wanted, and Ann Romney can't relate to women who have no choice, who have to work and also raise their families."
"Look, I know what it's like to struggle," said Romney. "I can tell you and promise you that I've had struggles in my life. I would love to have people understand that Mitt and I have compassion for people that are struggling."
MacCallum played one final clip of Rosen from the inflammatory interview she gave on CNN on Wednesday when she accused Mitt Romney of outright misogyny.
"He's so old fashioned when it comes to women," said Rosen. "And I think that comes across, and I think that that's going to hurt him over the long term. He just really doesn't see us as equals."
"Now that does bother me," said Ann Romney with a measured laugh. "That is not correct at all. You should see how many women he listens to." Romney then cited the number of women he surrounded himself with in both business and government.
Watch the segment via Fox News Channel:
Have a tip we should know? tips@mediaite.com