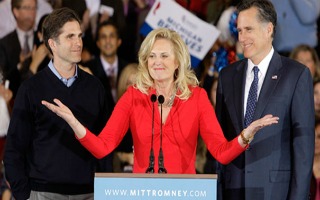 Several weeks back, political commentators and analysts predicted that former Massachusetts Gov. Mitt Romney's wife, Ann Romney, would be the campaign's ace in the hole. I recall thinking at the time, "well, I'll believe it when I see it." After Democratic strategist Hilary Rosen's inartful remarks about Ann Romney and the alacrity with which the Obama campaign mobilized to distance themselves from her remarks, I believe it. And you should too.
RELATED: Hilary Rosen Defends Her Ann Romney Comment: 'I Love Stay At Home Moms' And 'This Is Not About Ann Romney'
On Wednesday night, Rosen appeared on CNN where, when asked about Mitt Romney's wife's influence on the campaign and her stump speech defending her husband's appeal to women saying that the economy has as much bearing on women's voting habits as issues like reproductive rights. Rosen cautioned that Romney should be careful when taking his wife's advice because she had "actually never worked a day in her life."
The clang sound that followed her comment seems to have jostled the entire Obama 2012 campaign team right out of bed and onto Twitter. Within minutes, Obama's campaign manager Jim Messina took to Twitter to say that he "could not disagree" with Rosen more.
I could not disagree with Hilary Rosen any more strongly. Her comments were wrong and family should be off limits. She should apologize.

— Jim Messina (@Messina2012) April 12, 2012
Former White House Chief of Staff and campaign advisor David Axelrod echoed those sentiments approximately six minutes later:
Also Disappointed in Hilary Rosen's comments about Ann Romney.They were inappropriate and offensive.

— David Axelrod (@davidaxelrod) April 12, 2012
Even Rosen appears to have seen the error of her ways and took to Twitter to offer something resembling an apology while not directly conceding that her original comments were wrong:
@AnnDRomney Please know, I admire you. But your husband shouldn't say you are his expert on women and the economy. #HeNeedsMore

— Hilary Rosen (@hilaryr) April 12, 2012
This episode most clearly confirms what those writing about Ann Romney's stature in the coming general election foresaw: Romney's wife is a direct contradiction of the themes that the Democrats have teed up for this election year.
A 62-year-old mother of five and grandmother of 16, Ann Romney is a breast cancer survivor who lives with multiple sclerosis. Her very existence debunks the myth promoted by Democratic party operatives that Republicans care little for people living through adverse conditions – particularly the medical variety.
While it's obvious and apparent that Rosen's comments denigrate stay-at-home mothers, what seems to have been lost is the degree to which Rosen's comments offend the children of stay at home mothers (many of whom – and this may shock – happen to be male and some may even be Democrats).
Some, including Rosen herself, have clarified that while the offending comments were tactless, it is a privilege for women to be stay-at-home moms and not everyone has that luxury (as though being a stay-at-home mother was a luxury). While this rebuttal resurrects the Democratic talking point that Romney is wealthy and out-of-touch with middle class voters, it glosses over the fact that it is nearly always a difficult financial decision for any family that embraces that lifestyle.
RELATED: Ann Romney Responds to Hilary Rosen: 'I Know What It's Like To Struggle'
The Romney family may have been in a financial position that allowed Ann Romney to not have to work in order to keep her family's books in order, but so many families where one parent makes the selfless decision to stay home and be a full-time parent do not. While I often attempt to refrain from making sweeping generalizations, I think it's fair to say that there is not a child on Earth who does not appreciate that sacrifice from a parent. To criticize that decision betrays a striking tone-deafness that should not be under emphasized.
Rosen has opened herself up to tremendous criticism, but by extension she has also provoked a national debate over the condescension espoused by some that view the noble calling of child rearing as a character flaw. It is the view that somehow raising children is incompatible with the life of a liberated, educated and independent woman.
Some are making the point this morning that several prominent Democratic woman have made disparaging remarks about conservative women whose career choices do not meet their expectations of what a woman's professional life should be. In 2004, Sen. John Kerry's wife, Teresa Heinz Kerry said that First Lady Laura Bush had never had a "real job" when in fact she had served as a teacher and a librarian on top of raising two daughters. In 1992, Hillary Clinton said in an interview that "I suppose I could have stayed home and baked cookies and had teas, but what I decided to do was to fulfill my profession." Her comment that was broadly interpreted as a swipe at women and mothers who did chose to raise children rather than pursue a full-time career.
Each time these criticisms are made, they are always rebuked both from within and outside the ideological circle that surrounds the critic. It takes the Democratic party off message – this time, off a particularly successful message of loudly opposing Republicans at the state level who have instituted anti-abortion laws since 2011. The Obama team knows Rosen stepped in it and that's why both Democrats and Republicans are racing to mute or amplify her comments today. Rosen should offer an unqualified apology – if only for the sake of the career that she values so highly.
Watch Rosen's original comments about Ann Romney below:
Have a tip we should know? tips@mediaite.com