Ann Romney To Diane Sawyer On Tying Family Dog To The Car Roof: 'The Dog Loved It'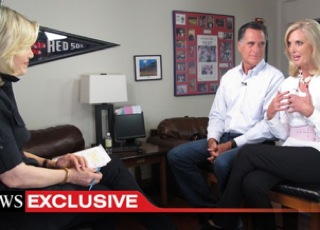 Ann Romney has been getting far more airtime in recent days, between the attacks on her by Hilary Rosen to, now, an upcoming interview alongside her husband Mitt with ABC News' Diane Sawyer. The interview, which touches on a number of controversial subjects, will air in part at 6:30 ET tonight and 11:35 ET on Nightline, had the Romneys also answering questions about Seamus Romney, the famous dog Mitt Romney once admitted to tying to the roof of the car on family trips. Responding to the concern of many that the practice was cruel, Romney assured Sawyer, "the dog loved it!"

RELATED: New Poll Suggests Dog-On-Car Story Not Hurting Mitt Romney…Yet
Asked about the concerns, Ann Romney argued that bringing Seamus along for the ride was far less cruel than keeping him home:
"The dog loved it," Ann Romney said. "He would see that crate and, you know, he would, like, go crazy because he was going with us on vacation. It was to me a kinder thing to bring him along than to leave him in the kennel for two weeks." […]

"Once, he — we traveled all the time — and he ate the turkey on the counter. I mean, he had the runs," Ann Romney said, laughing as she explained how the dog got diarrhea.
The story has somehow maintained some relevance in the news media since it first became a peripheral issue during the 2008 primary race. Then, ABC News reports, Ann Romney had explained that Seamus traveled in a humane enclosed kennel. The interview airs tonight, and in the meantime you can find a preview here and a transcript here.
Have a tip we should know? tips@mediaite.com