Ann Romney's 'We Built It' Fail: Even Her Father Didn't 'Build It' By Himself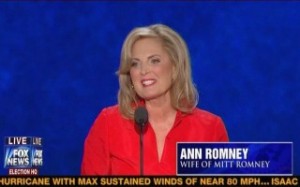 One little-noticed portion of Ann Romney's much-gushed-about speech at the Republican National Convention Tuesday night was a decidedly political shot in the middle of remarks that she promised would not be political. While discussing her own background, Mrs. Romney referenced the popular "You didn't build that" lie that the GOP has pegged their entire convention to, reminding the audience that her father's business was "one he built himself, by the way."
As it turns out, Mrs. Romney's childhood was largely sponsored by the good ol' teat of the American taxpayer.
The Romney campaign has built entire events around a dishonestly truncated quote in which President Obama made the obvious point that even successful business owners didn't build the collective infrastructure, the roads and bridges, the courts, the airports, the schools, et cetera, upon which they rely. Unfortunately, every example of self-reliant businesses that they've put forward has turned out to have some sort of direct reliance on government assistance, including the publicly-owned arena in which they're holding their convention. Even the lie they're promoting fails on its own terms.
That particular failure was even evident in prospective First Lady Ann Romney's low-risk speech about love and moms Tuesday night, as she couldn't resist slipping in a reference to the discredited narrative. Speaking about her father, Edward Davies, Mrs. Romney said "When he was 15, dad came to America. In our country, he saw hope and an opportunity to escape from poverty. He moved to a small town in the great state of Michigan. There, he started a business — one he built himself, by the way."
Of course, Mr. Davies didn't build the roads and bridges that connected his business to the rest of the world, but even within the logic of the Romney campaign's lie (not the first lie that Mitt Romney has had his wife repeat), Ann Romney's dad had significant help from the American taxpayer. Prior to starting his business, Mr. Davies worked for the Navy. Not the IBM Navy, or the US Steel Navy, but the US Navy. There's no doubt that he earned the money he made as a federal government employee, but he earned it from the coffers of the American taxpayer.
The business he started, Jered Industries, still boasts about its best customer:
Since 1946, Jered has been designing, manufacturing, maintaining and refurbishing a wide range of equipment for various government and commercial customers. Through organic and acquisition growth, Jered developed its expertise to secure a strong position in the marine machinery field, making the company a leading designer and manufacturer of steering gear systems for the U.S. Navy.
Mr. Davies even worked on the space program, and not that private sector space program, either:
Under his direction, the company rapidly expanded beyond the motor business. He worked on a docking simulator for the Gemini space capsule's first flight in 1965 and designed several key mechanical systems that are still used on US aircraft carriers today.

Ever the inventor, Mr Davies also developed products and registered patents for, among other things, automated window washing systems for high rise offices, fin stabilisers for yachts, a high performance golf cart, an underwater fishing spear gun and a lawn sprinkler system.
It shouldn't diminish Mr. Davies' accomplishments to note that he didn't build the patent office that protected all of his inventions, or the courts that enforced them, but rather, it should demonstrate what's great about America. Would Mr. Davies have been so richly rewarded for his ideas had he lived in the Soviet Union, and worked on a Sputnik simulator?
None of this should detract from Mrs. Romney's charm, or the adoration she's earned from the political press. The line was part of her prepared remarks, not an ad-lib, so it was put into her speech to sneak a political shot into what was billed as a non-political speech. It is worth wondering, however, how the press, mainstream and otherwise, would react if Michelle Obama displayed the same lack of gratitude toward the American taxpayer.
Have a tip we should know? tips@mediaite.com