Anonymous Witness Police Used Tells Orlando Station Trayvon Martin Attacked George Zimmerman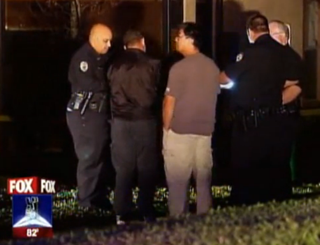 As the investigation into the investigation of the killing of Trayvon Martin continues, new facts are beginning to surface, and the Fox affiliate in Orlando found an anonymous witness who spoke to them in George Zimmerman's defense, saying he saw the man who was mostly the aggressor in the struggle fall on the grass, dead.
Tampa Bay's Fox 13 reported Friday that the witness, who agreed only to be identified as "John," saw the struggle and it was his testimony the police used to let Zimmerman go free (John spoke to Fox 13's Orlando Affiliate, Fox 35 on February 27th). His statements to the cops were instrumental because Sanford police say those screams you hear, the anchor notes, are Zimmerman's and not Martin's. Says John: "When I got upstairs and looked down, the person that was on top beating up the other guy was the one laying in the grass, and I believe he was dead at that point."
The police report allegedly included notes of Zimmerman's shirt being wet and grassy on the back, a sign of struggle. What it also includes, though, according to this report, is an initial assessment of the situation as "manslaughter and unnecessarily killing to prevent an unlawful act," according to the first police officer on the scene.
This story is far from over as the story develops and Zimmerman's side comes up to light. Given that the witness is anonymous and the only on-the-record supporters of Zimmerman's are his parents, his neighbor, and his lawyer, however, a reasonable explanation for his behavior appears quite elusive. The station also compiled Zimmerman's history of 911 calls, the police report from the night of Martin's death, and a number of other handy documents to understand the situation.
The report via Fox 13 below:


Editor's note: This post has been edited since its original posting – Jon Nicosia
Have a tip we should know? tips@mediaite.com