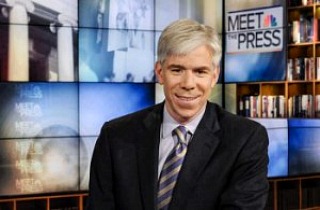 Another day, another bad report for NBC News' David Gregory.
Gregory, after a little more than 5 years as host for the once-proud institution Meet the Press, may be headed out the door, according to the New York Post.
Citing an unnamed source, the Post reports that NBC is considering replacements for Gregory "soon after" the 2014 midterm elections. An NBC spokesperson quoted in the story called the ousting of Gregory "false rumors."
Over the past year, Gregory has been subject to plenty of negative press for his MTP performance and for insider stories about his work reputation.
Our own reliable insiders tell us his reputation isn't far from how others in the press have described it. One former NBC News staffer, speaking on condition of anonymity, worked at the network's news bureau in Washington, D.C., in the early 2000s. The source said Gregory's reputation with some of the lower-level staff was one of being a primadonna, often reminding staffers of who he is when asking for tasks.
The New York Times' Mark Leibovich famously described Gregory in his 2013 book This Town as "overly ambitious, excessively full of himself, and unworthy of 'the (Meet the Press) chair.'
Another blow came when the Washington Post reported last year on an incident in Gregory's D.C. neighborhood. Witnesses described him as standing outside of an event being hosted at a nearby house, waving his arms around and complaining about too many cars clogging his street. He also allegedly told the event organizers that he "knows all the politicians in town," though Gregory denied that bit.
Indeed, Gregory seems to be having a rough ride overall. Meet the Press's ratings have seen their lowest point ever under his watch. He's not particularly liked among other media elites. And, perhaps most devastatingly, the Washington Post reported back in April that his employer once brought in a "psychological consultant" to evaluate him (NBC said it was actually a "branding consultant").
An NBC spokesperson would not comment on the record for this post, but did refer us back to NBC president Deborah Turness' April 2014 memo lambasting the negative press surrounding Gregory and reaffirming her confidence in his role as the Sunday show's moderator.
[Image via NBC News]
— —
>> Follow Eddie Scarry (@escarry) on Twitter
Have a tip we should know? tips@mediaite.com