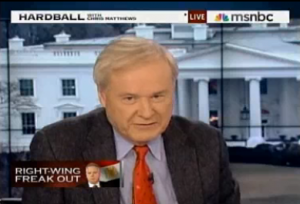 Chris Matthews is still angry over Glenn Beck's "looney tunes" theories about the Egyptian protests and an impending caliphate, and he welcomed two of his frequent guests David Brock of Media Matters and David Corn of Mother Jones to discuss what seems to be his favorite topic as of late: how crazy is Beck?
Now before you get too annoyed with Matthews for exploring the same topic on virtually every show for the past week, it must be stated that today Beck also continued delving deeper into his favorite subject: how the progressives, the Muslim Brotherhood and other forces around the world are plotting some strange, global Islamic crisis. Given that some conservatives have been distancing themselves from Beck, the Hardball panel suggested that it might only be a matter of time before Fox News President Roger Ailes steps in and ends the "embarrassment" that is Beck.
The disdain everyone on the panel had for Beck was apparent with Brock, who is no fan of any Fox News personality, even humorously suggesting that Beck "makes Bill O'Reilly look like Walter Cronkite." Matthews then played clips of John Birch Society CEO Arthur Thompson and dared viewers to see if they can hear any difference between the ramblings of Thompson and what Beck talks about every day.
Beck and Matthews have consistently been two of the most colorful and exciting cable news hosts in the past, yet it seems they both have found a way to make themselves as boring as some of their other competitors: forgetting that a news show should actually require a discussion of something new.
Watch the clip below from MSNBC:

Have a tip we should know? tips@mediaite.com