Another GOP Senator Backs Off Support For Norquist: 'I'm Not Obligated On The Pledge'
GOP Senator Backs Off Support For Norquist: 'I'm Not Obligated On The Pledge'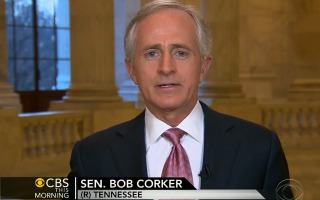 Tennessee Republican Sen. Bob Corker appeared on CBS This Morning on Monday where he became the latest GOP officeholder to back away from a pledge to not raise taxes made to Grover Norquist's advocacy group, Americans for Tax Reform. Croker told CBS that the only pledge he was obliged to abide by is the oath of office.

RELATED: Republican Sen. Lindsey Graham To ABC: I Would Violate Grover Norquist's Pledge…
"Are you prepared, as others are doing, to sort of say 'I'm going to forego the pledge because it is outdated and the country's problems are too big," Charlie Rose asked.
"I'm not obligated on the pledge," Corker replied. "The only thing I'm honoring is the oath I take when I serve when I'm sworn in this January."
Corker talked about a bill he has sponsored to resolve the pending "fiscal cliff," which he says contains $1 trillion in new revenues to the government but also tackles elements of entitlement reform.
"No Congress in history is more prepared to make these decisions," Corker said. "The last thing we need to do right now is kick the can down the road or create some process for next year." He said that all that is required to avoid the cliff is "political courage."
In the last week, Sen. Lindsey Graham (R-SC) and Sen. Saxby Chambliss (R-GA) also defined the terms which would force them to violate their pledges to Norquist's group.
Watch the clip below via CBS:
> >Follow Noah Rothman (@Noah_C_Rothman) on Twitter
Have a tip we should know? tips@mediaite.com