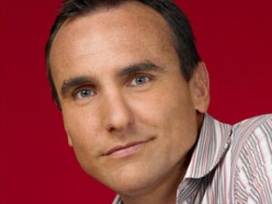 CNN foreign correspondent Michael Ware, who has reported from Baghdad and recently in Mexico, is leaving the network.
CNN tells Mediaite he is "on a leave of absence writing a book," but AllThingsCNN.com reports he has left for good.
From AllThingsCNN.com:
In addition to having taken a break recently in order to work on his book, it is no secret that he has been grappling with PTSD, brought on from the hellish years he worked in Baghdad. I was told that, unfortunately, when he needed more time off in order to deal with things, his request was denied. So he will not be returning.
A CNN spokesperson tells Mediaite, ""Michael is currently on a leave of absence writing a book. We don't discuss individual contracts." The spokesperson declined to respond directly to the AllThingsCNN.com post. Ware's bio is still currently listed on CNN.com.
Former CNN correspondent Jamie McIntyre, who left the network in December 2008, writes about Ware's departure on his blog:
Unlike old-fashioned journosaurs, Ware did not bother to balance his CNN reports with possible alternative explanations for the facts. He sized up the situation, rendered a judgment, and delivered the verdict without apology. And he was right, far more often than he was wrong. A friend of mine at CNN bristled when I suggested Ware was not an objective journalist. "He didn't toe the Pentagon line," he replied, "He called him like he saw them."
McIntyre also suggested Ware could be back on CNN in the future.
Ware may have been CNN's 2nd most visible international presence, behind Christiane Amanpour – she leaves the network at the end of the month, to take over ABC's This Week. Fareed Zakaria contributes an internationally-focused show on the weekends, but he is not an in-the-field reporter. Ware's loss will be felt in the short-term – he hasn't been on the air this year (according to TV Eyes), except his reports from Mexico from 2009 aired in March several times. But it could hurt in the long-term as well.
One thing that CNN has going for it, however, is the very vibrant CNN International resources. It's a place CNN domestic can draw from to find the next great foreign reporting talent.
UPDATE: A CNN spokesperson had the following further comment for Mediaite:
"With regard to Michael Ware, CNN has been and continues to be very supportive. Any issues regarding his contract remain confidential between Michael and CNN.

On the wider issue of PTSD, CNN is rightly regarded as an industry leader in this area. We offer outstanding help and support services to employees, past and present, in this area."
—–
» Follow Steve Krakauer on Twitter
Have a tip we should know? tips@mediaite.com