Another Journalist Tells Fox About White House Abuse: 'Like My Mother Giving Me A Guilt Trip'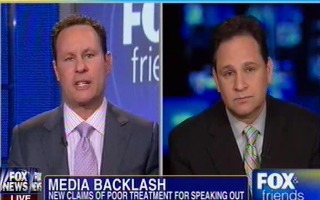 David Brody, White House correspondent for the Christian Broadcasting Network joined Fox & Friends host Brian Kilmeade on Monday where he became the latest journalist to reveal that he was also berated by members of President Barack Obama's administration for pursuing a story they felt was politically inconvenient. The reporter accused the White House of using emotional blackmail to keep journalists from requesting information the administration did not want to come forward with. "It was like my mother giving me a guilt trip," Brody said.

RELATED: Bob Woodward Invites President Obama To His House
Brody revealed that in 2009 he was bullied by members of the administration for pursuing a story about the removal of a cross at Georgetown University ahead of a speech that Obama delivered there.
"What started as just some verbal frustration from the White House that I would even want a reason about this story turned into a full-fledged shouting match on the phone with some choice words, shall we say, and it escalated from there," Brody revealed.
Kilmeade noted that liberal columnist Jonathan Alter has been "frozen out" of the White House. National Journal reporter Ron Fournier recently revealed that he, too, has had verbal confrontations with members of Obama's administration for pursuing stories.
"This Bob Woodward – the titan of investigative journalists – coming forward could be opening up the floodgates for a rebalancing of the relationship," Kilmeade opined.
Brody agreed. He said that his regular requests for information from the White House were met with "guilt trip after guilt trip." He added that requesting clarification from the White House became like calling his mother. "I felt like I need to start a therapy session," Brody said.
"They are rabid defenders of this president," Brody said of Obama's staff. Brody said that the right was "overly sensitive" to that protective instinct in the president's first term, but now journalists across the spectrum are beginning to show their frustration.
Watch the segment below via Fox News Channel:
> >Follow Noah Rothman (@NoahCRothman) on Twitter
Have a tip we should know? tips@mediaite.com