Another NY1 Reporter Tells Maddow About the Time Rep. Grimm Threatened to Fight Him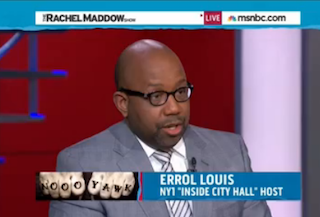 Last night, after the State of the Union had ended, Rep. Michael Grimm (R-NY) was caught on camera physically threatening a reporter from NY1 who tried to question him about corruption allegations. But apparently this was not the first time Grimm had nearly come to blows with NY1's on-air talent. As anchor Errol Louis told Rachel Maddow Wednesday night, a very similar experience happened to him more than a year ago — only it occurred off camera.
NY1 political director Bob Hardt described the incident in a blog post today:
Following an interview with NY1's Errol Louis in December of 2012, the congressman blew his top – off-camera. Again, at issue was the fact that Louis had the temerity to ask Grimm about an investigation that recently led to an associate of the congressman being arrested and charged with illegally donating $10,000 to his campaign.

After the interview, Grimm became red-faced and started yelling at both Louis and me, alluding to settling the issue by "taking it outside" with our political anchor – acting as if he were in a bar instead of a TV studio. He's also complained to me when our reporters on Staten Island asked him about the probe when he was running for re-election in 2012.
Louis confirmed to Maddow that he did not "take it outside" with Grimm that night. "No, no, no, I didn't even consider it. I'm in that part of the world, like most professional employees, where when you do things like that, you get fired." After that, Louis and his producer decided Grimm would not be allowed back in the NY1 studio.
The thing that most surprised Louis, who was on the air in the studio when Grimm confronted reporter Mike Scotto last night, was that the congressman actually came back where he knew he could be on camera to issue he threat of throwing the reporter over the balcony. "Why didn't he just go have a drink or something, or go curse the reporter out or something?"
Watch video below, via MSNBC:
[photo via screengrab]
— —
>> Follow Matt Wilstein (@TheMattWilstein) on Twitter
Have a tip we should know? tips@mediaite.com