Anthony Weiner: Fox Is Right, MSNBC Is Left, and CNN Is the 'God's Honest Truth'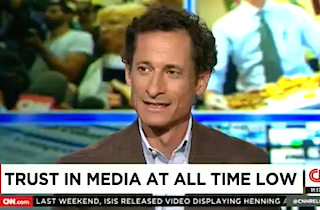 On Sunday's edition of CNN's Reliable Sources, host Brian Stelter took a look at the recent Gallup survey that shows Americans' trust in media has hit an all-time low. But instead of bringing in "two partisan commentators to argue about the media," Stelter instead invited "someone who has been in the glare of the news media": Former Congressman Anthony Weiner.
Weiner, who recently became a member of press himself, writing columns for Business Insider and the New York Daily News, described the media as a "Rorschach test" for consumers, who can find whatever bias they're looking for. "They can just go to Fox for conservative, maybe go to MSNBC for liberal," he said. "Be right here on CNN for the God's honest truth."
The former congressman and failed mayoral candidate went on to denounce the typical "split-screen" cable news set up in which the network basically says, "Here is the liberal, here is the conservative, you guys fight it out." Then, according to Weiner, because there's a liberal on the screen, it lets the conservative say, 'they have that bias' or the other way around."
"I don't know what the solution is, because you do want to have that cocktail of different views," he continued. "But I do believe that it's dragging down the perception of the media."
After criticizing people like his old friends Jon Stewart and Bill Maher for "lifting up issues just far enough to whack them," Weiner told Stelter a revealing fact about his recent interactions with people on the street.
This "cynicism" about the media, Weiner said, manifests itself in the people who talk to him about his move to the media side of politics. "They're like, 'I trust you even less than I did when you were in Congress,' which wasn't a lot," he admitted.
Watch video below, via CNN:
[Photo via screengrab]
— —
>> Follow Matt Wilstein (@TheMattWilstein) on Twitter
Have a tip we should know? tips@mediaite.com