Anthony Weiner Vs. Bill O'Reilly Showdown Could Be Opening Bout To Weiner Vs. Beck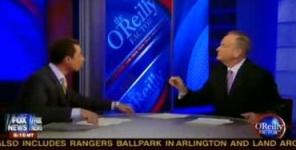 After a week of Rand Paul and Richard Blumenthal, it's refreshing to see a politician as polished and well-prepared as Rep. Anthony Weiner was tonight when he went one-on-one with the most-watched cable news host, Bill O'Reilly.
With O'Reilly only spending brief moments firmly in Glenn Beck's corner, the Goldline discussion O'Reilly gave Weiner "props" for agreeing to made for fantastic television.
O'Reilly came out with his main argument: "Why are you bothering with Beck?"
While Weiner didn't answer directly, he said Goldline was the "biggest" of these gold companies, and that his independent report did look at others. "Glenn Beck has a responsibility to the people who watch his show to say, 'you know what, there are smart ways and dumb ways to buy gold, and I'm advocating, this is a bad way," said Weiner.
"That's not true, he doesn't have that responsibility," fired back O'Reilly, who said Weiner's attack "smacks of a witch-hunt."
In the end, O'Reilly promised a Factor follow-up follow-up, as Beck would be back on Thursday. Weiner wanted to keep it going too. "We should have some hot dogs and some Beck's beers and have some fun," he said. O'Reilly just may hold him to that:
O'Reilly: Would you do it, though, one-on-one?
Weiner: I would be glad to.
O'Reilly: Alright we'll set that up next week.
Weiner: O'Reilly can do anything.
Will we see Beck vs. Weiner, mano-a-mano? Maybe WeinerFacts.com will keep the scorecard. This also shows something else – why Bill O'Reilly is in a league of his own on cable news. Can a conversation (and it wasn't a shout-fest, it was definitely a conversation) like the one below happen on any other program? The closest would be the Rachel Maddow/Rand Paul showdown, but that was a) a shock and b) not being watched by upwards of three million people.
Here's the interview:

—–
» Follow Steve Krakauer on Twitter
Have a tip we should know? tips@mediaite.com