Anti-Gay Radio Host And Log Cabin Republican Argue Over Romney's Appointment Of Gay Spokesman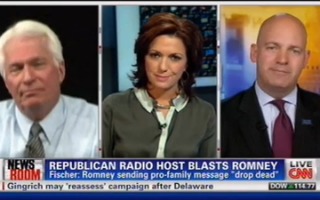 The American Family Association's Brian Fischer has been very vocal regarding his feelings about Richard Grenell, Mitt Romney's new foreign policy and national security spokesman. Grenell, you see, is gay. And Fischer believes that selecting a gay individual as a spokesperson is akin to having Romney tell the "pro-family community" to "drop dead." Fischer appeared on CNN Tuesday to further discuss his take on Romney and Grenell.
RELATED: Social Conservative Activist Attacks Romney's Hiring Gay Spokesman: Telling 'Pro-Family Community' To 'Drop Dead'
"The real issue for the evangelical base, the social conservative base," Fischer explained, "is where does Governor Romney stand on the issues of values, on the issues of marriage, the issues human sexuality. And this, I think, is an alarming signal for the Governor to send."
"Do you believe openly gay people should not be hired in the GOP?" asked anchor Kyra Phillips.
"The real issue here is for Governor Romney and what he thinks of homosexual behavior. His church… You know, my complaint of Governor Romney all the way along is not that he's Mormon, but he's not Mormon enough," replied Fischer, citing the Momons' stance against "homosexual acts."
But wouldn't the American people ideally want a candidate who upholds the separation between church and state?
"The homosexual agenda represents the single greatest threat to religious liberty and freedom of association in America today," Fischer replied.
R. Clarke Cooper of the Log Cabin Republicans chimed in to note that Romney selected Grenell — regardless of faith or orientation — because he was the most qualified candidate for the job. Fischer then pointed out that there are myriad other excellent candidates for the job who aren't gay, later adding that he felt Romney's selection of a gay man as his spokesperson was in effect a "shoutout to the gay lobby" and a "big gain for the homosexual lobby." He pointed to their discussion and Cooper's appearance on the show as evidence of this.
Cooper closed with a word of advice for Fischer:
Again, freedom means freedom for everyone, not for some. And, you know Brian, y'all got to be careful, because you're starting to sound like George Wallace: "segregation today, segregation tomorrow." Be careful because you're going to be left in the dust bin of history, my friend.
"Clarke, there's no equivalence between sexual orientation and race," Fischer replied. "People are born into race; sexual orientation is a matter of choice and preference."
Have a look, via CNN:
Have a tip we should know? tips@mediaite.com