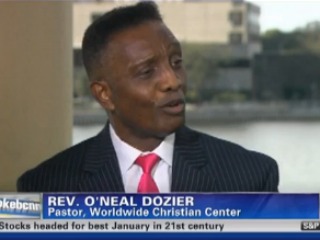 This afternoon, CNN's Brooke Baldwin sat down with Rev. O'Neal Dozier, an ultra-conservative pastor who has been named an honorary chairman for GOP presidential hopeful Rick Santorum's campaign in Florida.
Dozier holds several controversial views, including that homosexuality is "something so nasty and disgusting that it makes God want to vomit."
"Let me say this," said Dozier. "I love the homosexual people. I want everyone to understand this. And God loves the homosexual people, Brooke. But in the Bible, God actually rained down fire and brimstone upon two cities in the Old Testament — Sodom and Gomorrah — basically because of the sin of homosexuality. Now, in that particular passage, God called homosexuality an abomination in His sight. When you translate that particular word, abomination, from its original text, which is a Hebrew text, you will find that that particular word means this: disgusting. That's the meaning of the word. It means disgusting."
RELATED: Bill O'Reilly Defends MSNBC's Right To Fire Pat Buchanan
Baldwin quoted back another comment by Dozier where he had said that "God would never ordain a government to take from the rich to give to the poor… therefore God is not a socialist." So, she followed up, "do you think God is a Republican?"
"No," he replied. "No I don't. I don't think that God is a Democrat, nor a Republican." But, he reiterated, God is certainly not in favor of redistributing wealth.
Dozier said, later, that he isn't sure whether or not Santorum shares many of his views. But he understands that "Rick Santorum is not a politically correct person." And while Dozier doesn't see himself as a "political broker," per se, he sees the fact that politicians and the media are seeking his two cents as evidence that he, at least, has some political influence. Can't argue with that — there he is, right on CNN, in a 7+ minutes-long segment.
Besides, politics and religion are enmeshed:
You see, there is no, really, separation from church from state. There is a separation, however, from state from church. But not from church from state. You see, I'm a lawyer by trade also, Brooke. So I understand the First Amendment. Yes.
Dozier then cited a Gallup poll that suggested 22 percent of those surveyed would not vote for a Mormon candidate. Dozier believes part of this is due to a Mormon scriptures negative depiction of black skin.
Have a look, via CNN:
Have a tip we should know? tips@mediaite.com