Anti-Hillary Author Thinks Bill O'Reilly Might've Fallen for 'Clinton Tactics'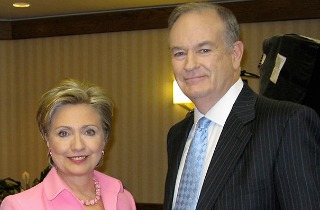 The Weekly Standard's Daniel Halper is doing his best to make his book about Bill and Hillary Clinton, Clinton, Inc., standout among the sea of other Clinton books. His latest move: Ever-so-subtly suggesting that Fox News's Bill O'Reilly was tricked by the Clinton team into canceling a scheduled interview with Halper.
In June, Halper wrote a piece for Politico Magazine, claiming that his book is under assault from the "Clinton PR machine." He said a CNN producer told him he wouldn't be receiving any airtime "because the Clintons punish networks that give space to their perceived enemies."
Halper has appeared on some news shows — he was on MSNBC's Morning Joe at the start of August and on Fox News a few times in late July — but not many. He suggested in a column for the Weekly Standard that team Clinton may have had something to do with the cancelation of an appearance he had scheduled on Fox's The O'Reilly Factor.
Halper wrote that Clinton loyalists have worked to tie his book, which contains many on-the-record interviews, to the much more gossipy Clinton book Blood Feud by Ed Klein.
And then this bit from the column:
I don't know Mr. Klein, so I can't speak to his integrity or his motivations. I can say that both his book and mine were to have been published by imprints of HarperCollins (his ended up being published elsewhere). I can also say that my book withstood thorough legal vetting and review by a lawyer (who, for what it's worth, openly expressed support for President Obama and the Democratic party).

Despite this, the Clintons' shopworn tactics appear to still have traction with the media. One well-known TV host, who originally agreed to have me on his show to discuss my book, commented the other week, apparently about my book and Klein's: "There is a bunch of books around now that are harsh towards various people. And the books are built on anonymous sources. . . . I just feel queasy putting authors on who come in and they say pretty terrible things about people."

The Clintons' tactic may work again. But I hope it doesn't.
That quote from a "TV host" comes directly from what Bill O'Reilly said on-air last month.
Halper was scheduled for an appearance on The O'Reilly Factor to promote his book, according to Lloyd Grove at The Daily Beast.
Halper told Mediaite that he doesn't know why his appearance on the Factor was canceled. Asked if he thought O'Reilly himself had been pressured by the Clintons, he said no.
"I don't think anyone intimidates Bill O'Reilly," Halper said. "My point was about the Clintons. Their tactic is to lump any criticism of them around someone who they feel is discredited. By lumping me in with Ed Klein at every opportunity, the Clintons are hoping that credible, high-profile journalists will be misled about my sourcing."
In response to the suggestion that O'Reilly may have fallen for such media tactics, Factor executive producer Amy Sohnen explained to Mediaite:
Once we further looked into the book after receiving a copy, we decided to not go with the interview because it relied heavily on anonymous sources throughout. Neither Bill nor the show was bullied or pressured by anyone.
There is, however, a record of Clinton aides tying Halper to Klein.
"Daniel Halper has joined the discredited and disgraced ranks of Ed Klein," one aide told Politico. Progressive media site Media Matters connected Halper and Klein in a post headlined, "The summer of nonsense." Another statement put out by Clinton spokesmen called Halper and Klein "despicable actors."
[Image via BillOReilly.com]
— —
>> Follow Eddie Scarry (@eScarry) on Twitter
Have a tip we should know? tips@mediaite.com