Anticipated 'Star Wars: The Force Awakens' Trailer to Air During… Monday Night Football?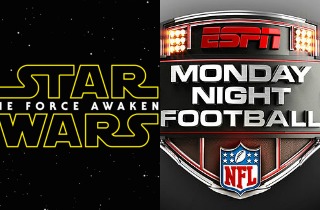 When LucasFilm announced this weekend that it would be releasing the next highly anticipated trailer for "Star Wars: The Force Awakens", we could hear our friends over at The Mary Sue cheer from down the hall. After all, the J.J. Abrams-helmed film earns write-ups and break-downs every time a single frame is released for public consumption.
It seems as if, at least for a couple of minutes during tonight's football game between the New York Giants and the Philadelphia Eagles, more than just pigskin faithful will tune in to ESPN. The new film trailer will reportedly air during halftime of tonight's game, with tickets going on sale immediately after the trailer ends. The film is due out in theaters December 18.
It seems like a curious decision to have such a "force" (sorry, had to) in geek culture rely heavily on the ratings waterfall of primetime NFL football. However, given that annual Super Bowl halftime performances tend to feature mainstream acts to draw in a non-football audience, perhaps the move for a NFC East rivalry game should be expected.
I for one am looking forward to seeing how Super Bowl winning coach and Hooters commercial frontman Jon Gruden will handle a booth introduction to a Star Wars trailer. If you're unfamiliar with Gruden, just imagine a wound-up, over-excited Chucky doll with part-turf-part-guts DNA speaking to a national audience about jedis and the state of The Empire.
I hope they cut back to Gruden in the Monday Night Football booth, cheesy ear-to-ear grin, taking the Star Wars characters to task as if they were football greats. "Yeah you know that Kylo Ren's got some leadership qualities, but terrible arm strength. I'm hoping for big things out of Maz Kanata and General Hux too, they really gotta step it up big for their team down the stretch."
Of course, from a business standpoint, the decision to merge the worlds of Monday Night Football and "Star Wars: The Force Awakens" isn't all that strange; after all, LucasFilm officially became a subsidiary of The Walt Disney Company in 2012. ESPN and ABC are also parts of the Disney media expanse, so unless they were looking to prop up a commercial break of This Week with George Stephanopoulos, tonight's Giants-Eagles game is the move.
ICYMI, tomorrow, there will be a @starwars #TheForceAwakens special event happening at halftime of #MNF. pic.twitter.com/0SKMSOkEgp

— ESPN Monday Night (@ESPNMondayNight) October 18, 2015
Check back in with Mediaite tonight for the post-game… err, sorry, post-trailer coverage.
[images via Wikipedia Commons]
—
>> Follow J.D. Durkin on Twitter (@MediaiteJD)
Have a tip we should know? tips@mediaite.com