AP Chairman's Fawning Introduction For Obama Scrutinized By Megyn Kelly Panel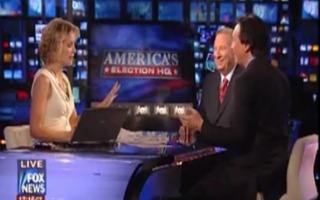 On Thursday, Fox News Channel host Megyn Kelly hosted a panel discussion on the appearance of bias in the praise-filled introduction that Associated Press Chairman Dean Singleton gave for President Obama at a gathering of the American Society of Newspaper Editors.
RELATED: President Obama Chides Media For Accurately Reporting His Administration's Failures
"The comments were delivered by Dean Singleton, chairman of the board at the Associated Press, the most widely distributed news service in this country," said Kelly. She proceeded to play a clip of Singleton's introduction to President Obama.
"As president, he inherited the headwinds of the worst economic recession since the Great Depression," Singleton began. "He pushed through Congress the biggest economic recovery plan in history, and led a government reorganization of two of the big three auto manufacturers to save them from oblivion."
Singleton continued, "he pursued domestic and foreign policy agendas that were controversial to many, highlighted by his signature into law of the most comprehensive health care legislation in history."
Kelly returned to the broadcast with Fox News contributor Alan Colmes and radio host Mike Gallagher. "Let me start with you as the liberal on this, Alan, did you detect any bias in there," asked Kelly, stifling a laugh.
"I understand it's hard when we are reality-based," said Colmes. "I don't see what he said there was wrong. Look, he's entitled to have an opinion." Colmes went on to criticize the choice of highlighting this clip as an attempt to establish a narrative that suggests the news media is generally favorable to President Obama.
"This is a very powerful organization, the AP," said Kelly. "We cite their reports a lot, they get breaking news, their content appears in tens of thousands of newspapers and websites around the world – and that's the guy heading it up."
"And that's the problem," Gallagher responded. "They're the definitive news voice in America that everybody cites. I mean, Alan, come on. He can't even pretend to be objective."
Gallagher went on to call Singleton's departure from objectivity in introducing the president "journalistic malpractice."
Watch the segment below via Fox News Channel:
Have a tip we should know? tips@mediaite.com