AP Reporter Grills Earnest: How Can Obama Justify ISIS Action with Law He Wanted Repealed?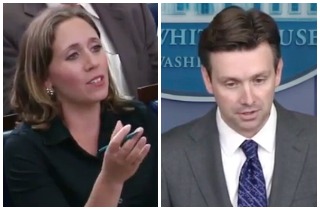 Reports from earlier this week revealed that the White House believes the original 2001 authorization of military force in Iraq covers the current campaign President Obama plans to wage against ISIS. The legal rationale is that ISIS was born from an al-Qaeda affiliate, and since the AUMF covers use of military force against al-Qaeda, fighting ISIS falls under that authorization.
Now, some legal experts have found this to be an "implausible argument," given how al-Qaeda formally severed all ties to ISIS months ago.
But there's another thing. In an exchange flagged today by RealClearPolitics, Associated Press reporter Julie Pace confronted White House Press Secretary Josh Earnest with a small observation: President Obama had called for the repeal of the AUMF. And Pace asked, "Can I just ask whether you see any irony in using as your legal justification for these airstrikes an authorization for military force that the president himself has called for repeal of?"
Pace is referring to remarks Obama made last year at the National Defense University. Obama invoked the AUMF and spoke of fighting terrorism "without keeping America on a perpetual wartime footing." And here's where he called for its repeal:
So I look forward to engaging Congress and the American people in efforts to refine, and ultimately repeal, the AUMF's mandate. And I will not sign laws designed to expand this mandate further. Our systematic effort to dismantle terrorist organizations must continue. But this war, like all wars, must end. That's what history advises. That's what our democracy demands.
Earnest acknowledged those remarks (though he left out the line about not wanting to expand it further), and said Obama is "ready to engage in a conversation with members of Congress as it relates to this specific AUMF."
Pace asked, "Using the AUMF he wants repealed?"
Earnest replied, "Under the AUMF that he continues to apply to this terrorist organization that is operating in Iraq and Syria."
Watch the video below, via RealClearPolitics:
Please enable Javascript to watch this video
[h/t RCP]
[image via screengrab]
— —
Follow Josh Feldman on Twitter: @feldmaniac
Have a tip we should know? tips@mediaite.com
Josh Feldman - Senior Editor