AP Reporter Grills State Dept. Spox over Hillary Documents: 'How Hard Can It Be?'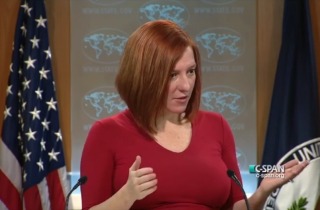 Associated Press reporter Matt Lee questioned State Department spokeswoman Jen Psaki during Monday's press briefing over former Secretary of State Hillary Clinton's so-called "separation" form, which could give clues as to whether Clinton violated any laws while she exclusively used a personal email address.
Employees leaving the State Department are required to sign the OF-109 form, which says the employee turned over all official records before leaving. If Clinton signed the OF-109 form, some are saying she might have committed a felony given that she admitted to deleting 31,000 emails she deemed "personal."
Psaki immediately told Lee she does not have any updates on the whereabouts of that form and that they are "still working on it" — a claim Lee couldn't seem to grapple with. He first started asking for information relating to that document since last week.
"The Human Resources Department presumably has a file on every employee," Lee said, wondering why the file couldn't be easily found in the HR department's records. "It can't be that difficult to … how hard can it be to find?"
Psaki said former Secretaries of State are not "standard employees," and continued to tell Lee that she is working on getting him an answer. She ultimately concluded that if someone had signed the "separation" form, it would be on file, and promised Lee that she would "endeavor" to find it for him.
Lee's employer, the Associated Press, made news of its own last week when the world's largest and oldest newsgathering organization announced it was suing the State Department over unfulfilled Freedom of Information Act requests related to Clinton's records. According to the AP, FOIA requests from up to five years ago were still pending. AP's General Counsel Karen Kaiser said the legal action is "necessary" and aims to shed light on Clinton's actions "during some of the most significant issues of our time."
Watch the video below, via C-SPAN:
[h/t NRO]
[Image via screengrab]
— —
>>Follow Andrew Desiderio (@forza_desiderio) on Twitter
Have a tip we should know? tips@mediaite.com