Apathy and Acceptance Will Rule Brian Williams' Return, Much to MSNBC's Liking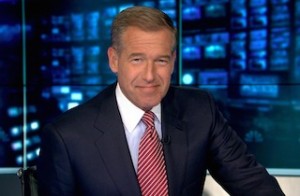 At 3:00 p.m. ET today, the Brian Williams saga comes full circle as the former NBC Nightly News anchor will take to the air for the first time since his suspension more than six months ago. The platform: A revamped, more traditional-news-focused MSNBC.
So what will be the reaction? Honestly — from all appearances from recent columns and on social media — it's going to met with mostly apathy.
Here's the deal: Williams never lied during a news broadcast like he did in all those self-serving interviews afterward that led to his highly-public suspension…never misinformed anyone when sitting in an anchor chair. By most accounts, it appears the American public is either bored with the Williams story or has forgiven him for time well-served. There just doesn't seem any outrage or blowback heading MSNBC's way with the exception of very few outliers. And when the 55-year-old veteran covers the Pope's visit to the U.S. this afternoon, the only drama that will unfold won't be because of who is covering the story, but the story itself (Pope Francis). That can only be a good thing for MSNBC, which is likely gauging the audience/social media reaction to Williams' return very closely.
For now, NBC News President Andy Lack has decided to keep Williams in the bullpen for big events like today and breaking news events moving forward. What determines "breaking news" from a "Get Brian warmed up and ready for air in five minutes" perspective is still a mystery. Egos may be damaged along the way as well: Remember, this scenario doesn't mean Williams will be replacing a Ronan Farrow, Joy Reid, Ed Schultz or Al Sharpton when a huge story breaks…that would be a no-brainer decision with any of those opinion hosts gladly stepping aside. But what happens if, say, there's a terror attack or school shooting and a capable veterans like Kate Snow or Tamron Hall is on the air? Does Andrea Mitchell or Thomas Roberts get bumped? Would Joe and Mika simply step aside? It's a very tricky thing, but the feeling here is this isn't the long-term plan.
Instead, MSNBC–and this is just speculation–will see how Williams is received (again, apathy/acceptance will rule the day), and decide from there is anchoring his own hour or half-hour provides the best value given his gaudy salary ($10m/year). Of course, there's always the problem of putting him on at 6:00 PM EST for a full hour, only because that timeslot means directly competing in the final half-hour with the man who has more than filled his shoes in the ratings/credibility gold that is Lester Holt (currently #1 in the evening news race).
Brian Williams returns to the airwaves today. Big story, big deal for all of cable news.
But the focus will mostly be on the guy wearing all white.
All while the hubbub around the former face of NBC News will be met with a collective yawn…
If you're Andy Lack and MSNBC, that's a very good thing.
— —
>> Follow Joe Concha on Twitter @JoeConchaTV
Have a tip we should know? [email protected]