Apparently Jodi Arias Is Tweeting During Her Murder Trial, Doesn't Like Nancy Grace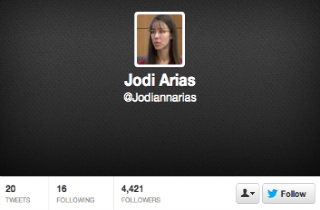 Being the defendant in a high-profile murder case hasn't stopped Jodi Arias from tweeting from behind bars. The 32-year-old admitted killer of ex-boyfriend Travis Alexander has been operating a Twitter account with the help of a friend.
With the help of friend Donavan Bering, Arias has been tweeting out messages to the public while sitting on trial for the 2008 murder. In one tweet, she dismissed rumors that she would somehow have a boyfriend at the moment; in another, she bizarrely said "God bless five day weekends."
Bering and Arias talk every night, with the latter often sharing quotes and musings for future tweets: "She'll call and say 'I have a quote.' We'll talk about it," Bering explained. "Sometimes she says 'let's tweet.' And then she'll say 'no let's not do it.'"
– RELATED: PHOTOS: Examining Jodi Arias' Drastic Courtroom Makeover
Arias' tweets have taunted prosecutors and pundits alike. At one point, she went after prosecutor Juan Martinez, writing, "Hmm… Anger Management problems anyone?" and "He who tries to establish his point by much yelling shows that his reasoning is weak" and "Those afflicted with Little Man's Syndrome taint society's perception of genuinely good men who happen to be vertically challenged."
She also tore into HLN's crime-focused anchorwoman Nancy Grace for posting a picture of what seemed to be Arias flipping the bird. In response, Arias tweeted: "Actually Nancy, that finger was for you. Have a nice day."

She also mocked the network's title: "HLN is an acronym for Haters Love Negativity."
Her most recent tweet has been an attempt to sell her artwork from behind bars. According to Fox Phoenix, the Maricopa County Sheriff's Office is aware of her Twitter habit, but says there's not much they can do to stop it.
Watch a report below, via KSAZ Phoenix:
Have a tip we should know? [email protected]