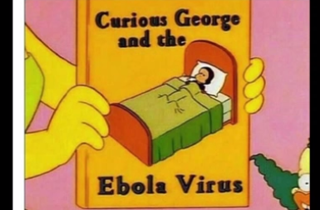 With every devastating event comes the inevitable crackpot theory about who knew what and when, and today's fun theory comes via the internet: The Simpsons predicted the Ebola outbreak.
How do we know this?! Well, during one of the 554+ episodes ever written for the show, The Simpsons made a throwaway joke about Ebola (a children's book called Curious George and the Ebola Virus). And according to YouTube person Thecontroversy7, the 1997 episode foretold the Ebola outbreak thusly: "check out the date the episode aired October 19 that is 911 in reverse – this is a marvelous video – great research – great work – also 1997 that is "8" which is the Ebola virus 911 – 8.
"no coincidence there baby!!!!" he added:
Is there something we are not being told? Is it by pure chance & coincidence that the Simpsons would do predictive programming? There has been numerous predictions from The Simpsons which revealed futuristic events which came to pass. What of the Ebola recurrence in 2014? Is it planned or is it just by natural means? Ebola was not in the 90's, but it happened long ago in the mid 70's… But The Simpsons reveal in late 90's Ebola virus… Interesting right?
By that logic, Jesse Pinkman from Breaking Bad was in on the conspiracy, too:
Jesse Pinkman: When you say it's contamination. I mean, I'm thinking like… an ebola leak or something.
Walter White: Ebola.
Jesse Pinkman: Yeah, it's a disease on the Discovery Channel where all your intestines sort of just slip right out of your butt.
Walter White: Thank you, I know what ebola is.
Watch below, if you dare:

[h/t Uproxx]
[Image via screenshot]
—
>> Follow Tina Nguyen (@Tina_Nguyen) on Twitter
Have a tip we should know? tips@mediaite.com