Apprentice Producer Tells Staff He'll Sue Them If They Leak Footage Damaging Trump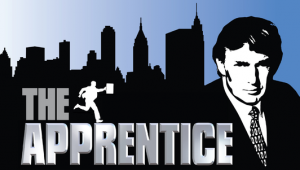 A powerful pro-Trump Hollywood producer has laid down the law to his staff — leak anything damaging the Republican presidential nominee and I'll sue you!
According to Buzzfeed News, Mark Burnett, the producer behind The Apprentice, has threatened those working for him with lawsuits if there's any leaks over the coming days that hurt the former Apprentice star in a similar way to the recently unearthed Access Hollywood footage.
A powerful Hollywood ally of Donald Trump has threatened staffers who could release potentially damaging outtakes of the show, a source close to Mark Burnett told BuzzFeed News.

Burnett, the producer of The Apprentice, and his production company have not responded to requests for comment from BuzzFeed News and many other outlets since grotesque outtakes from another show rocked Trump's campaign Friday, even as former staffers have suggested on Twitter (without clear evidence) that The Apprentice material could be just as damaging.

But the person familiar with Burnett's thinking told BuzzFeed News that the producer is backing his star.

Burnett "is pro-Trump and has made clear to his teams that he will sue anyone who leaks," the person said.
Obviously, considering that the "grab 'em by the pussy" footage came from an NBC property and The Apprentice airs on NBC, many have figured that there's a treasure trove of politically destructive video just waiting to be released to the public. And it could be that he is really worried about this:
@mcuban the price is 5 million to cover the penalty fee. And we all get to hear him use the N word from what I hear https://t.co/IsmJvHHL1K

— Chris Nee (@chrisdocnee) October 9, 2016
As TMZ reported earlier in the day, Burnett actually doesn't own the video footage…MGM does. So it is possible that any lawsuits coming from a leak won't be coming from Burnett but from the studio.
There are reports Burnett owns the rights to the footage, but he does not. It's owned by MGM, and there are written agreements that would almost guarantee a lawsuit if the footage is released … especially because it captures many people other than Trump.
However, it appears that Burnett, who has largely stayed out of the political fray this election, is going to do everything in his power to make sure that does not occur.
[image via NBC]
–
Follow Justin Baragona on Twitter: @justinbaragona
Have a tip we should know? tips@mediaite.com