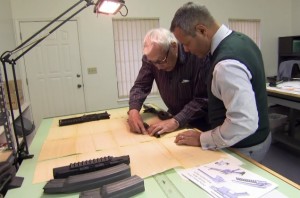 The inventor of the AR-15 rifle accused HBO Tuesday of making selective edits to an interview that aired in an episode of Real Sports w/ Bryant Gumbel.
Jim Sullivan's comments began making waves within the pro-gun blogosphere after he appeared to tell host Bryant Gumbel that he never envisioned that the AR-15 would be sold for civilian use, that it had the most lethal rounds in human history, and that it was just as deadly as its military counterpart the M-16 rifle. The last assertion was particularly controversial, given that the AR-15 is semi-automatic while the M-16 is fully automatic.
In a Tuesday guest editorial for The Federalist, Sullivan claimed that his words had been twisted by HBO. "They were apparently trying to make the AR-15 civilian model seem too dangerous for civilian sales," he wrote. "They didn't lie about what I said, they just omitted key parts, which changed the meaning."
"When I appear to say that the civilian-model AR-15 is just as effective or deadly as the military M16, they omitted that I had said 'When firing semi-auto only' and that 'the select fire M16 on full auto is of course more effective,'" he claimed. Sullivan also claimed Gumbel "pretended not to understand" the difference between hunting rounds and military rounds.
The accusation is certainly relevant after Yahoo's Katie Couric was caught and apologized for making a misleading edit to an anti-gun documentary last week. But in that case, Couric's pro-gun detractors had a smoking gun in the form of audio proving that edits had been made.
Gumbel, for his part, has never hidden his support for gun control and disdain for gun supporters, famously calling the NRA "pigs" and a "curse upon the American landscape."
[Image via screengrab]
——
>>Follow Alex Griswold (@HashtagGriswold) on Twitter
Have a tip we should know? tips@mediaite.com