AR-15s Or RPGs? Senator Says On MSNBC That Video Games Are 'Bigger Problem Than Guns'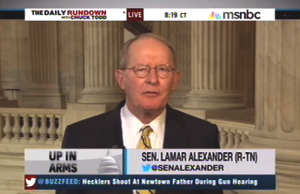 The Senate held hearings on gun violence today, and the testimonies ran the gamut from defenses of the Second Amendment to calls for more gun control to the real villain in all this: violent video games. Yes, one of Washington's favorite punching bags is back in the conversation, and as if to perfectly encapsulate the way in which our leaders view gaming culture, on MSNBC this morning, Tennessee Senator Lamar Alexander actually told Chuck Todd that he thinks video games are "a bigger problem than guns."
RELATED: States Taking Action Against Violent Video Games With Taxes And Buybacks
Todd asked Alexander if he would be willing to put his support behind a bill calling for universal background checks. Alexander indicated he is not exactly eager to jump on board, and bizarrely brought up video games in his remarks.
"Chuck, I'm going to wait and see on all these bills. You know, I think video games is [sic] a bigger problem than guns because video games affect people. But the First Amendment limits what we can do about video games. The Second Amendment to the Constitution limits what we can do about guns. So the details matter to me. I'm going to be skeptical of any of these proposals and examine them in the light of the Second Amendment to the Constitution."
Okay, first off, let's credit to Alexander for recognizing that the First Amendment does protect video games. They're not great works of literature or anything, but I'm pretty sure there is no legal distinction between The Scarlet Letter and Red Dead Redemption.
But how can a sitting senator, an elected official, actually think that video games are a bigger problem than guns? Guns are not the sole problem, but I'm pretty certain the weapon used to carry out these horrible shootings should at least get a little more blame than virtual ones. And when he says that video games "affect people," what exactly is he talking about? The same anti-violent video game study that actually points the finger of blame more at guns?
Alexander wasn't the only one who invoked the horrors of video game violence. During the testimonies today, both Senator Chuck Grassley and NRA executive vice president Wayne LaPierre spoke out against them as well. LaPierre too acknowledged the First Amendment right of companies like Activision and Rockstar Games to develop violent games, but said he wants to try and convince them to stop releasing games with such rampant violence. Because if there's one thing that's going to make all our problems go away, it's less Grand Theft Autos and more Epic Mickeys.
Everything that's needed to be said about why this claim is ridiculous has been said, and yet politicians and pundits who don't actually know anything about video games are continuing to chatter on about gaming violence. If Joe Biden really wants to do some research into violent video games and the effect they have on people, the least he can do is make sure the people doing the investigating have some semblance of what a video game is and can name a console made in the last five years.
Watch Alexander's remarks below, courtesy of MSNBC:
h/t Kotaku
—–
Follow Josh Feldman on Twitter: @feldmaniac
Have a tip we should know? tips@mediaite.com
Josh Feldman - Senior Editor