'Are You Happy?!': Shooting Victim's Husband Yells at CNN Staked Outside Suspect's Home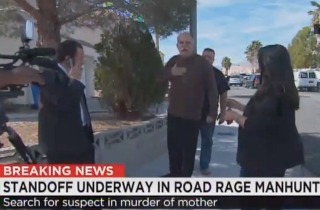 Upon learning that police are in a standoff with the possible suspect in a "road rage" shooting death, TV news crews descended upon a quiet Las Vegas suburban neighborhood. The husband of the woman killed in the original incident was not pleased.
To recap: Tammy Meyers, 44, mother of four, was shot and killed a week ago during a "road rage" confrontation with an unidentified man. She had been giving her 15-year-old daughter a driving lesson when an encounter with a male driver frightened the two females, who then headed home. After dropping off the young girl at home, the mother asked her 22-year-old son, Brandon, to come with her. He brought along his registered firearm.
According to her husband, Meyers had intended to go hide the car for fear that the suspect was looking around the neighborhood to find the vehicle from the earlier confrontation. But eventually the suspect and Meyers found each other, with the suspect firing shots and the son returning fire.
Flash forward to today, when police have the home of someone possibly involved in the shooting surrounded. CNN cameras caught Meyers' husband, Robert, distraughtly attempting to walk across the street to the home under siege. His actions seem to suggest the man across the street is the suspect who shot and killed his wife.
As he turns away from the street, per an officer's request, he turns and yells at the media gaggle, which included CNN's Sara Sidner. "Are you all happy?" he said, pounding his chest. "You made my wife look like an animal and my son. There's the animal. A block away! Are you happy?"
Meyers' anger is likely directed at early media reports that suggested his wife and son had gone out in pursuit of the other man, rather than having gone back out to hide the car, as Robert claims.
Watch the clip below, via CNN:
— —
Have a tip we should know? tips@mediaite.com