Argentina Staves Off World Cup Failure in Thriller, Legend Diego Maradona Flips Off Crowd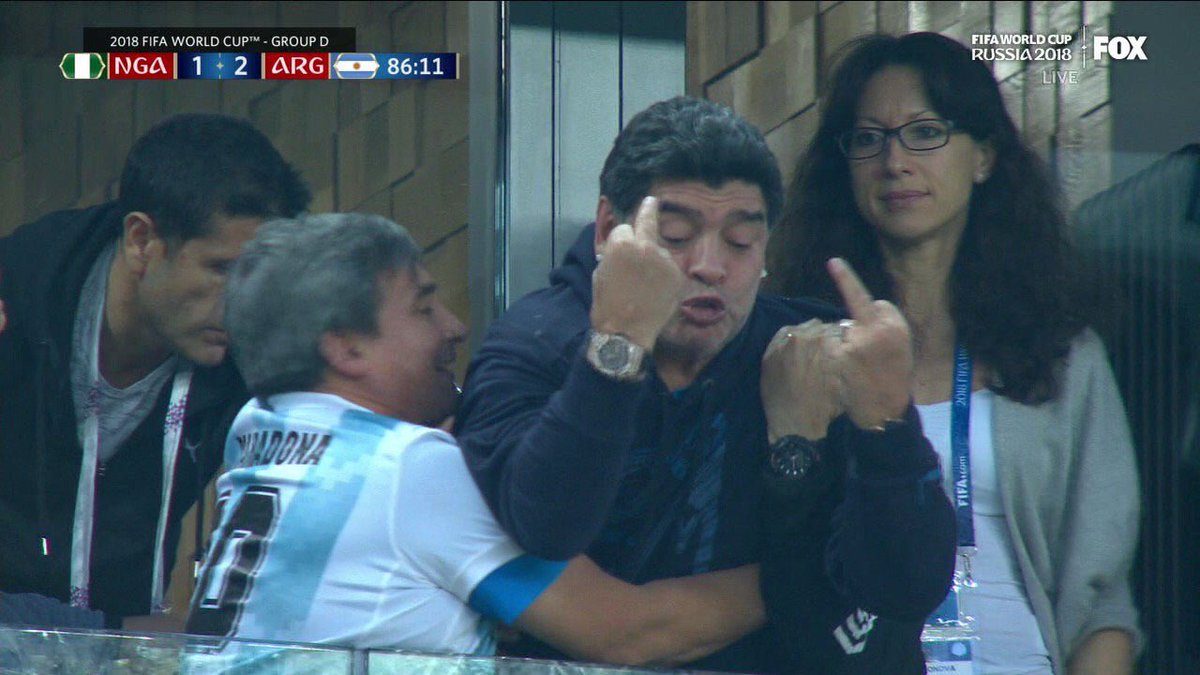 Argentina were having a tragic World Cup. On Tuesday morning, just four years after making it to the finals the last time around, superstar Lionel Messi's team sat at the bottom of its group.
Then came the thrilling clash against Nigeria.
Diego Maradona, Argentinian legend and prodigious coke-head, kept his spirits high ahead of the vital match — and his reactions throughout would prove a guide for the rollercoaster-ride showdown.
Maradona officially not worried pic.twitter.com/6scd3T9AeH

— Big Cat (@BarstoolBigCat) June 26, 2018
Straight out the gate, Messi scored a cracking goal, taking down a splendid ball from Ever Banagea before mashing it past Nigeria's keeper into the side netting.
LIONEL MESSI!!! 1-0 TO #ARG!! #WORLDCUP pic.twitter.com/REPbcOCwkx

— FootyMatrix ⚽ (@Footy_Matrix) June 26, 2018
Mastery. ? pic.twitter.com/fuD4VUQUSN

— TheSportMatrix ?? ? (@TheSportMatrix) June 26, 2018
LOOK AT THAT!
Maradona was invigorated: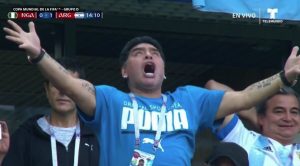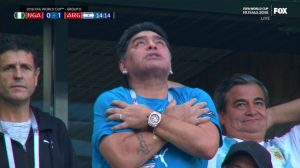 Then Argentina fell apart. The implosion culminated in a foolishly conceded penalty in the 51st minute. Victor Moses coolly played the ball into the left side of the goal, after Argentinian keeper Franco Armani had already plunged.
There was a backflip:
Nice goal, Nigeria … but that backflip though. #NGAARG #WorldCup pic.twitter.com/X4MvfzPm1d

— Sporting News (@sportingnews) June 26, 2018
Let's check in with Marad– oh no…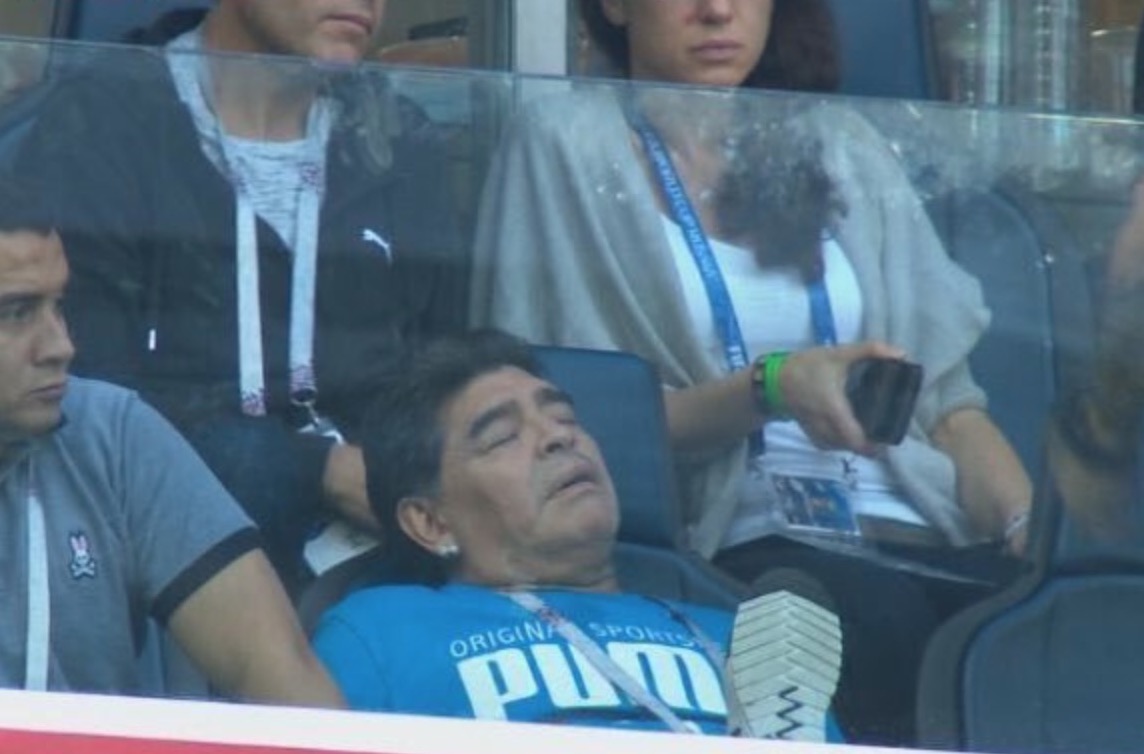 The absolute nail-biter revved along at Di Maria speeds, and in the chaos Argentina's Javier Mascherano somehow played the last 20 minutes with blood gushing from his face.
Idk about you, but I wouldn't want to be an official being chased by Mascherano with blood dripping down his face. #NBAARG pic.twitter.com/FSQQobRMK3

— Sara Baeuchler (@sarabaeuchler) June 26, 2018
Then came the 86th minute, which brought magic from an unexpected foot: Marcos Rojo, perennial disappointment of Manchester and now Argentina's savior, who twatted a gorgeous volley into the bottom left corner.
Rojo's winning goal for Argentina vs Nigeria. #MUFC #WorldCup pic.twitter.com/NlYquwFVrz

— 2018 FIFA World Cup Live Streaming (@2018FIFAWorldC9) June 26, 2018
Maradona was back on his jittering feet:
Maradona flipping off Nigerian fans after Argentina's second goal ?#MUFC #WorldCup pic.twitter.com/KHRV2luc81

— 2018 FIFA World Cup Live Streaming (@2018FIFAWorldC9) June 26, 2018
Sensational. With that, Argentina secured their position in the second round of the World Cup, knocking out Nigeria. Messi's Rojo's side will face France in the round of 16.
[image via screengrab]
—
Follow Aidan McLaughlin (@aidnmclaughlin) on Twitter
Have a tip we should know? tips@mediaite.com
Aidan McLaughlin - Editor in Chief