Ari Melber: 'Right-Wing Political Culture' Wrong to Celebrate Gun-Toting, Anti-Gov't Rancher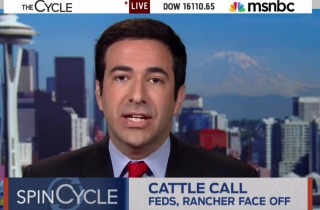 Cliven Bundy, a 76-year-old Nevada cattle rancher, recently engaged in an armed standoff with federal authorities as part of his ongoing dispute with the government over grazing land. The government claims that Bundy owes nearly $1 million in fees and fines resulting from his decision to graze his cattle on federal land. When the Bureau of Land Management rounded up his cattle last week, Bundy and hundreds of his supporters confronted the authorities and eventually forced them to release some 300 confiscated animals.
On Monday, MSNBC host Ari Melber called the actions of Bundy and his supporters "lawlessness." He added that "right-wing political culture" is wrong to celebrate the actions of a man who instigated an armed confrontation with federal authorities over a land dispute.
"What you have here is lawlessness," Melber said. He said that it is clear Bundy was violating the law by grazing his cattle on federal lands and "menacing" federal authorities by confronting them while in possession of a firearm.
"We don't want to be that kind of country," Melber insisted. "I think the folks were way out of line, walking around with their weapons, and I think it goes to a problem with gun culture."
"There is something wrong with, A, these folks walking around with their guns up against officers when they're in the wrong, and B — equally important — with a right-wing political culture that tries to embrace and celebrate that," Melber concluded.
Watch the clip below via MSNBC:
[photo via screengrab]
 — — 
>> Follow Noah Rothman (@NoahCRothman) on Twitter
Have a tip we should know? tips@mediaite.com