Ari Melber's Spot-On Smackdown of Media's 2016 Mania Shows Why Local Reporters are Critical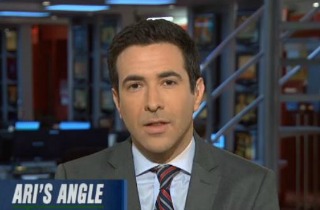 MSNBC host Ari Melber devoted the final minutes of Wednesday's The Cycle to remarking on the rise and fall of 2009's Republican heroes, former Virginia Gov. Bob McDonnell and New Jersey Gov. Chris Christie. He noted that both candidates were touted by a Republican Party, desperate for saviors, as having potential presidential mettle. But this now dubious assertion was also lent credence by an excessively credulous media myopically focused on the next national election cycle.
Here, Melber identified a critical failure of the national political press: Their unwillingness or inability to devote attention in the off-years to the slightly less sexy but infinitely more valuable coverage of the local circumstances. These conditions inevitably come to define these prospective candidates when the next election cycle truly begins, but national audiences are often lack the requisite background to understand them in context when it becomes critical.
"So when the political class gets its way, there are million subjunctive conversations about a hypothetical Christie candidacy, before any serious discussion of the actual Christie administration," he said. "It's bad for accountable government and it's bad for democracy."
This is absolutely correct, but he places more blame on the press than is due. The media is a service provider offering a product which is often not especially dissimilar from its competitors in an increasingly saturated market. While this is a condition with which any business must contend, it is especially acute for media companies. They face increasing competition in an ever-fracturing environment where the universe of prospective consumers grows smaller every day.
It's a tough position for any company, and the operating costs associated with broadcasting and reporting leave little room for loss or investment. But there is an solution, one that MSNBC has –- to its credit -– embraced recently as the Christie administration's scandals expanded in scope: Elevating the local reporters and media outlets that do focus on local government all day, every day. Those reporters rarely get the recognition they deserve from the national outlets which are, as they must be, fixated on the most compelling national angle to any story.
Local reporters and columnists from New Jersey outlets like the Bergan Record, the Newark Star-Ledger, the Asbury Park Press, and WNYC have found themselves in the national spotlight in the last month, and for good reason. MSNBC took a similar path in early 2012 when Wisconsin Gov. Scott Walker faced and ultimately survived a recall election. Then, local Badger State reporters found themselves the center of the conversation, able to add unique perspective and vital detail for an audience requiring a crash course in how state-level affairs are managed.
It is a shame that the national press, MSNBC included, only finds it beneficial to elevate local reporters when it advances their particular preferred political narratives, but the periodic eruption of local scandals ensnaring national political figures demonstrates how indispensable these unsung reporting heroes truly are. When local stories explode on the national stage, the value of these local reporters becomes apparent but that is itself a key failure of the national press.
When these white hot scandals fade from focus, these reporters will go back to doing the work that made them invaluable to these national outlets in the first place. The cable news talking heads will go back to discussing 2016 about 1,000 days too early. Meanwhile, the less visible local reporter those pundits will lean on in three years for their expertise get back to work.
Watch Melber's commentary below via MSNBC:
[Photo via screen grab]
— —
> >Follow Noah Rothman (@NoahCRothman) on Twitter
Have a tip we should know? tips@mediaite.com