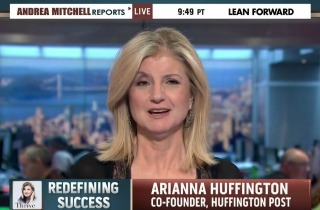 Huffington Post co-founder Arianna Huffington appeared on MSNBC with Andrea Mitchell on Monday to discuss her new book and her latest feminist "revolution:" getting enough sleep. She said that everyone needs to incorporate napping or meditation into their lives if they want to be both successful and fulfilled.
"The way to a more productive, more inspired, more joyful life is getting enough sleep," Huffington told an audience at a recent TED talk. "And we women are going to lead the way in this new revolution, this new feminist issue. We are literally going to sleep our way to the top."
Mitchell introduced Huffington as possibly the most "inspired sleep evangelist" and noted she has a new book on the subject coming out.
RELATED: Arianna Huffington Blasts Obama Admin: 'They Have Bought Into The Republican Talking Points'
Huffington said that she was converted to sleep evangelism after collapsing from exhaustion from working to build the Huffington Post while helping her daughter get into college. "It stated me on this journey," she said, "that we really have stopped asking the question of, 'What is a good life?'"
She said she advocates for small periods of sleep or meditation. "Everybody can find that time to do these things if we prioritize these things and really recognize their importance," Huffington added. "These are not new agey, flakey ideas. These are performance enhancement tools."
Mitchell concluded this segment of the interview by calling Huffington a "visionary" on the subject of relaxation techniques.
Watch the clip below via MSNBC:
[Photo via screen grab ]
— —
> >Follow Noah Rothman (@NoahCRothman) on Twitter
Have a tip we should know? tips@mediaite.com