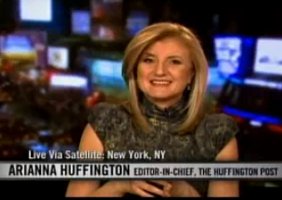 Given that Arianna Huffington was appearing on Real Time with Bill Maher just days after her Huffington Post got bought up by AOL for $315 million, it seemed a near-lock that subject would be the highlight of their conversation. But instead, the most eye-opening part of their chat might have been what Huffington didn't say – namely, that she wouldn't rule out voting for someone other than Barack Obama in the 2012 presidential election.
Maher was steadfast in his belief that there was no challenger the Republicans could throw at Obama who'd have a realistic shot of beating him. He asked Huffington almost rhetorically if there was a Republican she could think of who might get her vote over Obama…but all he got out of her was, "Well – who knows who is going to be running in 2012?" Pressed further, she said she "[doesn't] know enough about Jon Huntsman," the U.S. Ambassador to China, to definitively say she wouldn't vote for him.
While none of this exactly constituted a ringing endorsement of Republicans, it certainly wasn't a rining endorsement of Obama, either – she said she couldn't even rule out a third-party candidate coming on strong if unemployment remains around its current level, and criticized Obama for sometimes pushing the wrong issue at the wrong time (ex. "health care over jobs"). She did, however, praise his conduct on the situation in Egypt, calling his remarks about the need for true democracy "Obama at his best."
Video of Huffington's remarks, via HBO, below. While we'd still bet on her sticking with Obama in 2012 (provided, of course, the 2012 apocalypse doesn't arrive and the earth swallow us whole before election night), she did leave the door cracked open.
Have a tip we should know? tips@mediaite.com