Arizona GOP Sheriff Tells Don Lemon GOP Should Be 'Truly Inclusive, And Not Just Say We're Inclusive'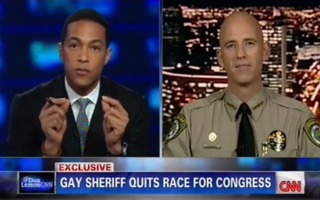 Republican Arizona Sheriff Paul Babeu, who came out as gay after an ex-boyfriend who was a Mexican national alleged that Babeu had threatened him with deportation, recently quit his campaign for Congress. He sat down with CNN anchor Don Lemon who asked him whether he thinks the Republican party should be more "progressive" on issues like same-sex marriage. "To be truly inclusive, and not just say we're inclusive and a big tent, we've got to show this," Babeu replied. "We've got to have other people in there with a voice."

RELATED: AZ Sheriff Paul Babeu Denies Allegations During Wrenching Wolf Blitzer Interview
Lemon asked Babeu if he believed he could help "bridge the chasm" in the Republican party over "gay issues."
"I believe I can be one of – I won't be so bold as to say 'I'm the guy,'" said Babeu. "We need some officials in the Republican party that just don't come out and say 'hey, I support these issues,' but actually live their life doing their job first – and that's most important – but also say, 'this is who I am.'"
Babeu praised Arizona Republican Sen. John McCain and his local county officials who has continued to support him and his career even through the deportation controversy and his subsequent coming out.
Lemon detected that Babeu was hedging his criticism of the Republican party, and asked "are you afraid to be critical of the Republican party? Are you afraid to be critical of Mitt Romney? It seems like you're hedging a bit."
"You know why? Because, I believe the best way – because a lot of us in the Republican party are – get offended when you shove things in their face and it's all demanding things," said Babeu. "I think they respect more about me that I've never done that."
Lemon asked Babeu if he thinks that the Republican party should move forward on same-sex equality issues and be a more "progressive party" to which Babeu responded "yeah."
"To be truly inclusive, and not just say we're inclusive and a big tent, we've got to show this," said Babeu. "We've got to have other people in there with a voice."
Lemon concluded by asking him about the investigation surrounding the sheriff's ex-boyfriend who is a Mexican citizen that claims Babeu threatened him with deportation if he revealed Babeu's status as a gay man.
"The worst thing you can say about somebody wearing a badge and carrying a gun is that they threatened somebody or abused their authority," said Babeu. "But I asked for this investigation and I'm fully confident that I'll be exonerated."
Watch the segment below via CNN:
Have a tip we should know? tips@mediaite.com