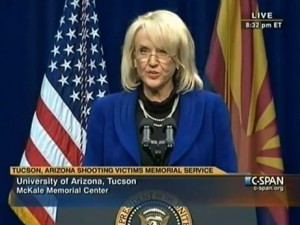 While President Obama's speech at Wednesday night's "Together We Thrive" memorial to the victims of Saturday's mass shooting is justly receiving a lot of attention, Arizona Governor Jan Brewer also delivered stirring remarks at the event. While the contrast between the President's speech and that of Sarah Palin will likely be the topic of the day, Brewer's brief remarks displayed the hope for a more civil relationship between rivals embodied in the President's address.

Governor Brewer and the President have famously butted heads, mostly over immigration, and even been pitted against each other in testicular combat by Palin. In the spirit of recent events, though, during Brewer's moving remarks about the victims of Saturday's shootings, Brewer took a moment to thank President Obama, and spoke powerfully about unity in her state. Obama's and Brewer's remarks, along with others I have seen from political figures like House Speaker John Boehner, seem to indicate that this event has profoundly changed them.
Her grief is palpable throughout the speech, but I was most moved by the second nature with which she said "my friend Gabby Giffords."
Many have remarked about the conduct of the crowd at this event, as well. While I think it's perfectly fine to make observations, I also have a hard time with people passing judgment on the conduct of grief-stricken people. Over the years, I've learned that in intense times, there really is no behavioral norm. While the cheers may seem odd or irreverent, a community in such a state of intense sorrow shouldn't be begrudged moments of uplift.
Having said that, this phenomenon reached its disconcerting zenith during Brewer's speech, as uproarious applause followed her reading of the line "We also lost Christine Taylor Green."
Still, the intent was clearly to show appreciation for, and celebrate, the lives lost or shattered that day.
There have been some reports of booing during Brewer's speech, but if there was, it can't be heard on the tape, and Brewer, thankfully, doesn't appear to have heard them: (from C-Span)

Have a tip we should know? tips@mediaite.com